The eTILE-X1032TB certification allows users to exploit the complete set of administration and management tools available within the Telelogos solutions. With Meeting4Display , users can book a workspace directly from the 10" e-Tile touch display, from their messaging system or their smartphone, as well as having a complete control of the hardware and any other software elements installed on the device (silent software updates, remote management, hardware and software monitoring).
"We regularly select touch displays, and put them through a rigorous testing and validation process to provide our customers and integrator partners with a solid and certified solution. AOPEN and TELELOGOS have been collaborating for a long time on digital signage with many joint projects and partners. It was natural for us to continue this collaboration in the field of workspace management. Moreover, the distribution of AOPEN devices is very well established in different parts of the world which is necessary to cover the expansion of TELELOGOS" underlines Christophe Billaud, Managing Director of Telelogos.
AOPEN is a global hardware manufacturer, specialising in digital signage. With a portfolio consisting of Digital Engine's (mini-PC's), eTILE's (Panel PC's) and commercial Chrome devices.
With a new device, the eTILE-X1032TB, AOPEN focusses on building management. The eTILE-X1032TB is a small all-in-one touch display running on Android 8.1. With RFID and NFC possibilities, you control your building and meeting room occupation, using Telelogos software. You can mount the eTILE easily to the wall with a metal bracket, but due to the weight, you can even mount it on glass!
"We are really happy to work together with Telelogos on the eTILE-X1032TB". Says Jack Chou, General Manager at AOPEN. ''As a manufacturer of quality hardware, we work with software companies that hold the same quality standards as we do to ensure a suitable solution for the customer. We see that smart building solutions, which include meeting room management, are making a rise in our business. With partners such as Telelogos, we feel confident that companies will experience the added-value that the certified eTILE-X1032TB gives to a durable and efficiently set-up working environment.''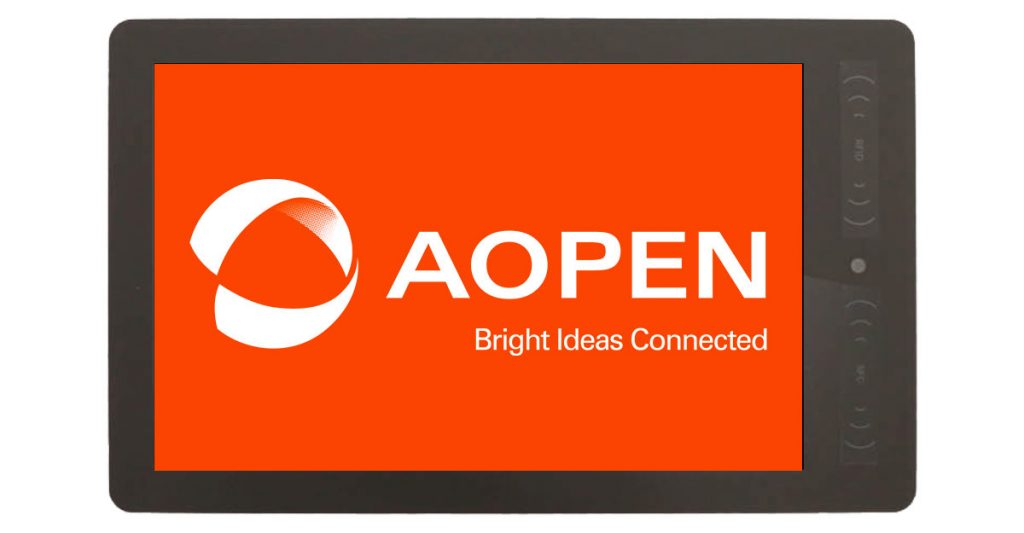 Combined with TELELOGOS digital signage software, and AOPEN digital signage players Meeting4Display can display in real-time, the current status of your workspaces, a list of upcoming planned meetings, as well as a floor plan showing the location of your rooms in the building and their current availability status.