The business world has changed. Education has changed. In fact, any scenario where a person or group of people are required to meet and collaborate has changed, for the most part due to the initial impact that the COVID-19 pandemic had on society and our response to it – to build back better. What is also clear is that organisations of all types are now required to enable remote participation – either partially or fully – as part of their business continuity plans.
Businesses have had to contemplate new ways of working, initially offering employees the option of working from home, and later implementing remote working full time, redefining roles or eliminating the traditional office structure altogether.
The education sector was forced to rethink and reorganise how it could continue to provide lessons effectively in a safe environment for both faculty and students alike. Remote learning and online modules are now an essential part of the learning journey even for students who are present on campus. And there is no doubt that high-quality audio makes a positive impact on remote learning and collaboration.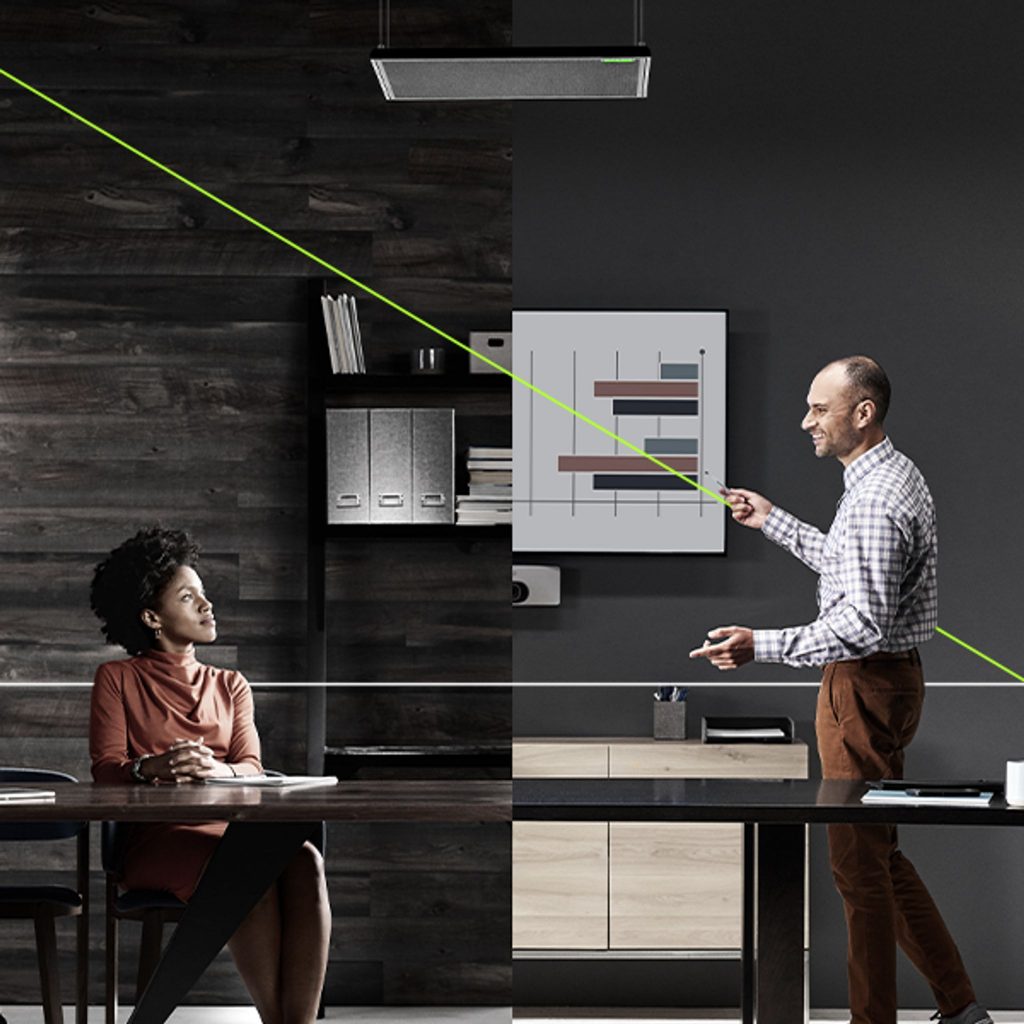 However, this sea change in communication was happening before the pandemic. The need for greater carbon neutrality was already being discussed by Governments and business leaders around the world. Statistics for higher education institutions between 2016-17 for the two top study destinations – the US and the UK – showed falling numbers of international student enrolling. The question for academics: if students can't or won't travel, how can we continue to engage them? The seeds for efficient and effective global communication were being sown.
How can we help academics continue to deliver a high-quality learning experience to remote students? Is there a way we can simplify the vendor landscape to avoid having to deal with multiple suppliers of software and hardware? Is there a way to centrally control all the different AV solution components? Can AV products on networked audio connections be protected effectively against security breaches?
Creative Conversation = Innovation
As a market-leading provider of premium audio hardware and software for audio conferencing systems, Shure continued to listen to its customers, taking onboard their immediate needs and requirements and future long-term vision for systems that could meet and exceed the demands of various markets. And the continuation of the convergence between AV and IT departments has sped up the adoption of AV technologies geared around simple deployment, intuitive operation and seamless compatibility, especially those that are certified for use with leading collaboration platforms such as Zoom, BlueJeans, Teams, GoToMeeting and others.
Innovative and scalable solutions of networked microphones, DSPs, along with loudspeakers for small rooms, large boardrooms and everything in between were required. A single vendor audio ecosystem was an obvious choice and solution.
The Shure Audio Ecosystem was born out of this need, offering product bundles for specific room requirements, providing a turnkey audio solution and clear and concise audio consistent from room to room. This range of product offers a complete conferencing audio ecosystem that fits perfectly with the needs of system integrators and AV professionals, flexible across audio system architectures in all room types.
The expanded range of Microflex® Advance™ (MXA) products along with complementary software for design, management and control, expands the options open to systems integrators equipping meeting and collaboration environments. These are all natively designed to work with each other, and with IntelliMix® audio signal processing in either device-based or software formats.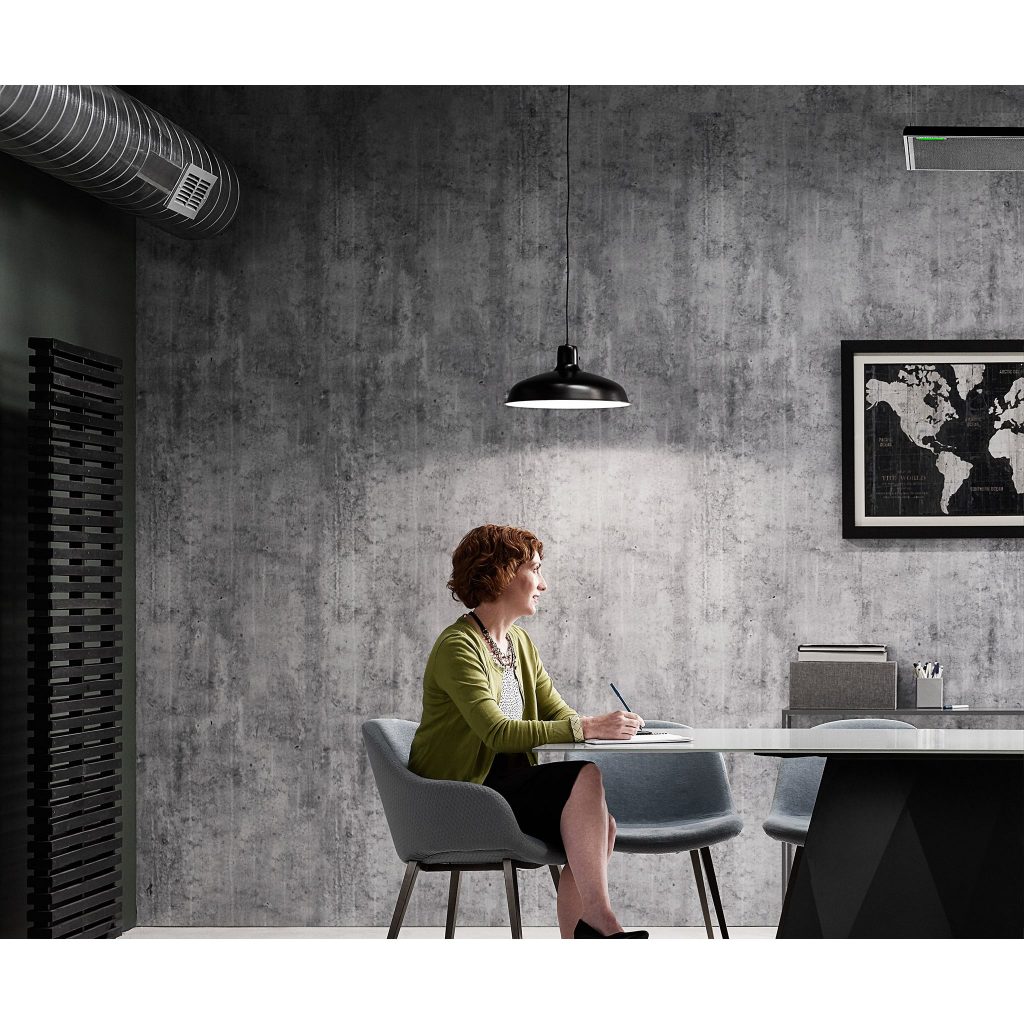 With the introduction of the Microflex Advance MXN5-C Networked Loudspeaker, the MXA710 Linear Array Microphone and the Networked Mute Button, along with the MXA310 Linear Array Microphone, MXA910 Ceiling Array Microphone with IntelliMix, Designer System Configuration Software, SystemOn Audio Asset Management Software, IntelliMix® P300 Audio Conferencing Processor and IntelliMix® Room Audio Processing Software, Shure supports the complete audio signal chain, from input to output.
Microphones: From Ceiling, Table and Linear Array microphones, all designed for high-quality audio capture in premium AV conferencing environments. Whether it's under or next to a wall-mounted display, suspended from the ceiling or flush mounted in a table, there is a microphone solution to suit every need. The low-profile form factor of the MXA range subtly blends into any meeting room aesthetic without sacrificing audio quality and makes it an ideal alternative for spaces where flexible mounting options are required.
Loudspeaker: The MXN5-C provides high-quality speech reproduction for AV conferencing applications. PoE-enabled with an onboard amplifier housed in a low-profile design, this loudspeaker includes one Dante input and two Dante outputs, optimised for easy installation in drop-ceiling configurations. Designed by Shure, it integrates seamlessly with the AV conferencing audio ecosystem of networked hardware and software for a complete audio solution.
IntelliMix DSP: Including the P300 Audio Conferencing Processor and IMX-Room Audio Processing Software, the IntelliMix range of digital signal processor is designed to enhance every aspect of conference audio and helps to eliminate unwanted noise and echo, while providing consistent volume levels of all meeting participants to the far end of a video conference call.
Applications: Software for System Configuration and Remote Management, including our Audio Asset Management Software, SystemOn, which monitors Shure devices across networks, logs system events and alerts users over text or email for time sensitive or critical issues, and Designer, System Configuration Software that makes onsite installation and project management simple.
Accessories: The configurable PoE-powered Network Mute Button accessory is designed for easy muting of Shure networked audio products, including Microflex Advance Array Microphones as well as the P300 and IntelliMix Room DSPs and ANIUSB-MATRIX. It provides simple, programming-free "mute sync" functionality for one or many networked devices in a room and is also compatible with third-party control systems via command strings.
The Shure Audio Ecosystem establishes the single vendor relationship that IT leaders are looking for to meet as many AV needs as possible, effortlessly and effectively.
Complete audio signal chain

Offering the complete audio signal chain, from microphone to DSP to loudspeaker, allows Shure to provide networked audio solutions and high-quality audio for every space. Whether for classrooms or large lecture theatres, boardrooms and large meeting spaces, the Shure Audio Ecosystem model offers unmatched ease of deployment, less complexity, and remote management.
It also recognises that AV system technology enabling seamless communication for everyone involved, demands integration capabilities with a range of partner solutions, especially the dynamic and competitive nature of the codec market, with different vendors looking to differentiate their solutions through flexibility, scalability and quality. By working with these partners Shure can guarantee crystal clear audio and provide an ecosystem experience needed for a complete conference room, collaboration workspace, lecture theatre or any learning environment. Shure's ecosystem partners include industry applications, manufacturing, cables, cameras and custom furniture, making every room sound extraordinary.
The Shure Audio Ecosystem offers the complete audio solution in one place, working with leading third-party software and hardware conferencing platforms, including Logitech, Zoom, Microsoft Teams, Cisco, and others to secure certifications and ensure compatibility and collaboration platform ready.
More rooms can be deployed in less time, using Shure Designer software as 'one pane of glass' for system-wide integration. AV techs have visibility of everything on network with SystemOn for easy monitoring/troubleshooting, making for streamlined configuration and ease of deployment.
Higher Education Institutions typically have many learning environments with lots of equipment spread across multiple buildings in locations across a campus or city. An audio ecosystem that can be managed centrally by a remote AV/IT team ensures there is less classroom down time by removing any problems or issues for faculty and enabling the IT/AV team to remotely monitor the status of those components and troubleshoot quickly and effectively. Whether lessons are being delivered to students in a physical space, live streamed to remote students or recorded, it is essential that the teaching professional can simply walk into a room and get started knowing that their voice will be captured with high speech intelligibility to near and remote students. And, at the same time, that those students' lessons are being delivered by efficient, effective videoconferencing systems, guaranteeing the best possible learning environment for faculty and students alike.
One audio partner to manage all your requirements
Another benefit of the Shure Audio Ecosystem is that one manufacturer provides a single point of contact for sales, service, support, training, updates, and more. Less gear overall (no amplifiers for loudspeakers, outboard DSP, fewer cable runs, etc.) and a lower learning curve for intuitive audio system operation are additional advantages for AV professionals, who simply want complete systems to meet their needs and requirements – without having to learn and understand multiple product instructions for applications.
Encryption for Enhanced Security
Secure networks and encryption are also a major requirement for organisations and HE institutions. This is especially the case as more and more students and professional teaching staff connect remotely to networks. Shure Networked Audio Encryption protects networked audio connections between Shure products in an audio ecosystem against security breaches, safeguarding confidential content without compromising audio quality. Our ecosystem model ensures that this encryption can be combined with other network security measures, such as device access control and network partitioning to create a multi-layered security solution.
An Ecosystem for the future
As the future of AV becomes increasingly more networked, opportunities will continue to arise for the creative AV and IT professionals who are tasked with implementing new, powerful videoconferencing solutions within the corporate sector and HE institutions around the world. To assist and support, Shure have streamlined easy-to-deploy bundles of integrated technology (hardware and software) that fit with the communication and collaboration platforms these various organisations and institutions are investing in. Shure Audio Ecosystem can provide networked audio solutions for any size of space and environment – with unmatched ease of deployment, less complexity and remote management.
Shure.com/ecosystem