Out of a necessity to reduce the transmission of Coronavirus, almost overnight emergency online teaching using business UC tools became the hero of the hour as schools, colleges and universities closed their classroom doors.   Yet long before the onset of the mother of all viruses, technology already provided the opportunity for online learning to have more than just an almost inconsequential bit-role in the increasingly diverse learning landscape. Most people didn't consider it a serious player as part of a campus-based education. Duncan Peberdy reports.

Online-only providers such as the Open University, Futurelearn, and Coursera, have all developed programs, including at degree-level, for students to learn at a place and time of their choosing.   Perhaps these students were already into careers and studying alongside holding down a full-time job, or instead had parenting and caring responsibilities. But in these scenarios and on those platforms, students do not come to class as part of a complete real-time cohort. For K12 and undergraduates, learning is a social enterprise, and small group active collaborative learning supported by their tutors was becoming a real force for educational and social good.
In less than twelve months, the opportunity for and acceptance of remote learning has advanced by perhaps twenty years.  That hasn't been because of technology, it's come about thanks to cultural acceptance triggered by necessity.  It doesn't mean that what we have is yet perfect, but in the same way that productivity in knowledge-based workplaces hasn't fallen off a cliff like many expected, we now realise that education by physical attendance on campus isn't the only way.
Before Covid there hadn't been consideration or planning for online learning at such scale.  Teachers immediately turned to the tools they already had installed, and although massively outside of their comfort zones, started to learn that there can be another way.  With so many institutions already using Microsoft Office 365, Teams became a natural partner for many, and Microsoft quickly increased the maximum number of remote participants who could be simultaneously viewed.  But even though being able to see all 24 or 30 students at the same time was an improvement, small thumbnails of each student on a laptop or desktop screen was a poor substitute for seeing all their life-size smiling faces in the classroom.
There are a few high-end systems that will bring remote students into the classroom in a far more lifelike way, but they are quite bespoke and too expensive for most colleges and universities, especially now investment to provide the necessary scale for remote learning has become a priority.  The challenge has been to look at the situation from a fresh perspective to determine how the benefits of these world-class systems can be developed with a different approach.  So rather than being a single-vendor solution, working with Intel and a small number of Intel technology partners, we've collaborated to create the Visual Learning Lab.
What is the Visual Learning Lab?
The Visual Learning Lab [VLL] is an on-campus hybrid teaching space for any mix of physically present and remote-based students to learn together.  Many of us believe that the majority of learning spaces moving forwards will be designed as so-called HyFlex rooms to provide such flexibility.  In our VLL, two adjacent ViewSonic touch screens act as one super wide display.  A Kramer VIA collaboration platform provides connectivity to and from all students and whatever device they have, and incorporating an AVer PTZ Camera and A3 visualiser, remote students can see everything just as well as those sat in the room.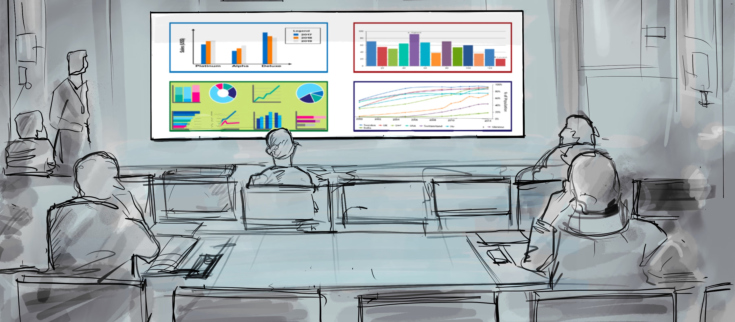 With a Windows 10 system at its heart, Teams, Zoom and other emergency UC solutions are transformed when their remote participants are displayed across the super wide ViewSonic screen.  The faces are no longer thumbnails, body language can be read, engagement recognised.   In an instant, the two screens become one giant whiteboard, providing a meaningful writing canvas for STEM and other subjects that can be digitally captured, shared, re-used, etc.
But now, because this is not a bespoke system, we have the opportunity to develop pedagogical practices with additional software and hardware solutions. Perhaps some software more focused as a remote classroom tool?  Or maybe another era that has been talked about as 'the next thing' will shortly come of age?  AI, in the form of video observation, has the potential to revolutionise individual learning pathways.  As a force for good, could machine learning measure engagement, understanding, and wellbeing through a mixture of anonymous and identified interventions?
First VLL
Our very first VLL is being installed at the City of Glasgow College in early March.  The college is not so much getting a valuable resource, but also becoming a highly valued partner in the development of hybrid learning with a new array of tools.  Most importantly, they have the support of a small group of technology manufacturers committed to working together and with the sector, in order to develop the best solutions and not just their own version of it.

We purposely wanted this development to be positioned as a laboratory that can research and evolve excellence in student learning.  Maybe not everything will work on campus quite as we imagined, and we encourage other experts to explore where their technologies might fit and add value to student learning.    There is no doubt that the capture and broadcast of learning and teaching will increase, as will the use of automated computer vision that can monitor student attendance and their behaviours in more depth.
Developments, such as the Visual Learning Lab, in partnership with the sector for the sector, have a real potential to be a force for good, and a substantial benefit to students on and off the campus as online learning comes of age.