Shure, partnered with SFL, to provide a Covid-secure solution to Royal Star & Garter care homes allowing residents to stay connected to family and friends throughout the Coronavirus pandemic. The impact of Coronavirus has been devastating for the care home industry. The risk of transmission means that family and friends cannot visit care home residents under the circumstances that they are used to. Royal Star & Garter, a registered charity providing award winning care for veterans and their partners living with disability or dementia in their state-of-the-art Homes wanted to enable residents to stay as connected as possible to their families during this difficult time and so working with SFL Group, they designed Covid-secure visiting rooms.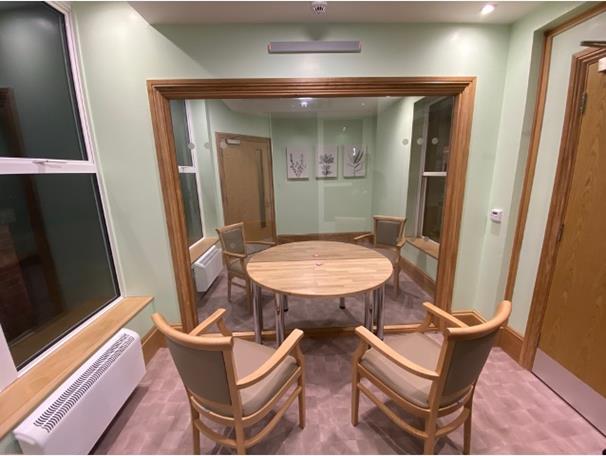 Sam Jacobs, Project Manager, SFL comments: "SFL were approached to provide a holistic audio, acoustic & furniture solution to the custom built rooms, having experienced what we are able to create in Live Events, Huw Williams, from Royal Star & Garter, gave SFL his brief for the installation, to design & deliver an audio solution that allowed residents and visitors to seamlessly communicate without an audio divide, we needed to consider acoustics in the room to prioritise audio quality and design and manufacture custom furniture, discreetly housing the control elements either side of the glass dividing wall."
SFL recognised that the system they needed to implement had to be simple to operate whilst also having minimal to zero maintenance requirements. Sam worked closely with the Shure to design and test systems appropriate for the care home, hosting Covid-secure demos at their facility in Reading. SFL were able to test different options and scenarios to find the best fit for the project, ultimately resulting in us choosing Shure Advanced Microflex system to be the bedrock component of Audio system utilising the MXA710 Linear Array Microphone in conjunction with the MXN5W-C Ceiling Speaker. The system was a dramatic difference between the previously tested alternatives and once SFL's testing and the first installation was complete, the care home team were convinced this was the right solution to roll out across all of their homes across the UK.
Sam continues: "Whilst the audio system was the core component the acoustic treatment and dining tables were another key aspect of the project, SFL's carpentry and print teams were instrumental in designing and creating some creative solutions to 'nasty' acoustic problems, the team worked hard to find the best acoustically transparent materials to print on and then custom-built frames for each of the rooms creating elegant art pieces to blend them in as part of the room design. Oak Tables were CNC'd and built in-house encompassing the simple one press mute buttons.
"The final solution for each of the rooms really allowed the space to feel homely and welcoming for the residents and their families, whilst delivering great audio discreetly. We are very proud of the solution implemented in these homes and glad we could do our bit to enable loved ones to communicate in a safe way during the pandemic."
Peppe Mallozzi, Regional Sales Manager – Pro Audio comments: "We are proud to have worked with SFL on this project. SFL are a pro audio partner, but as like so many in the live events industry, they've had to explore other avenues to sustain business and we support all our customers in thinking creatively during very challenging business conditions. It is humbling to see our technology have such an impact on the mental wellbeing of Royal Star & Garter residents and their families. It was clear from the start, that we were demoing a winning solution for the client. After the first few seconds, we immediately started talking about mundane, ordinary things, like weather or sport, when we realised that we weren't paying attention to the technology, as the technology had just disappeared in front of our eyes and that is exactly the result we were looking for."
"When we planned our Covid-secure visiting rooms, we needed a top-quality system to support older people, who may have auditory issues and use hearing aids, when they meet their relatives. The feedback we are receiving from residents and their relatives who visit tell us that is what we have with the Shure audio system," comments Martin Goldman, Director of Operations, Royal Star & Garter.