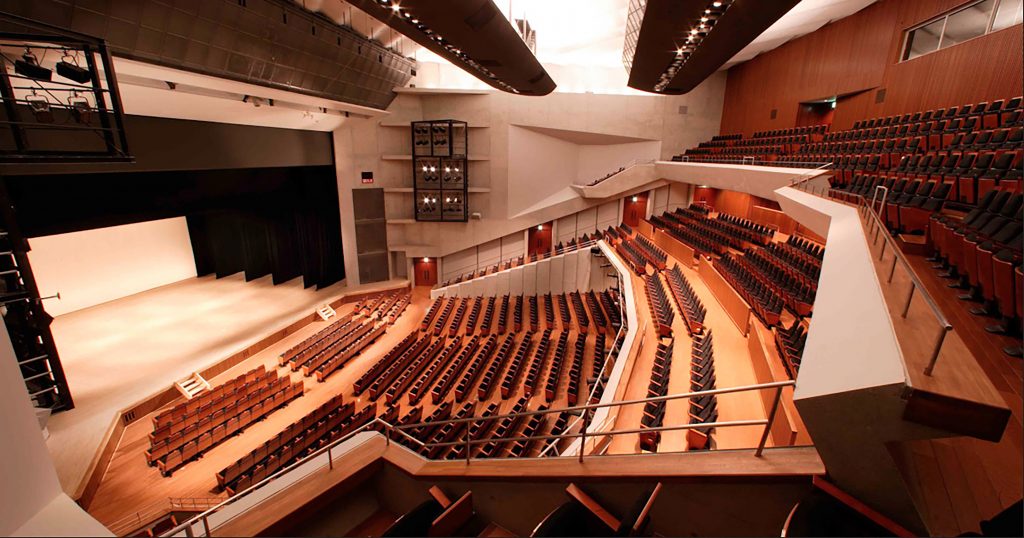 The Kitakami Cultural Exchange Centre, affectionately known as Sakura Hall, is a community hub in the Iwate Prefecture of Japan. Since opening in 2003, its small, medium, and large-sized halls have welcomed performances by national groups and local independent artists. The centre also features rooms for arts and craft workshops, rehearsal rooms for ballet and dance, and a music room for musicians to practice after office hours.
Sakura Hall's Tatsuya Sato noted that the original sound system was no longer holding up to the Great Hall's current needs. "This is the first renovation since the Hall's opening, 17 years ago," he explains. "The renovation became necessary as the original system deteriorated. We needed a new, flexible system capable of presenting the various programmes that we carry now and a system that would grow with us for future programmes. The system had to be high quality, to stimulate the public's awareness of creative activities."
Mr. Sato's main objective was to deliver clear sound with even coverage, free of feedback, especially for story-telling performances known as 'Rakugo' where members of the audience will be seated on the third floor. With this vital requirement, the staff at Sakura Hall were scoping out a line array system. Initially, a flown LCR system was considered, but due to installation restrictions, a decision was made to go with a line array system, that was installed as stacks in the existing speaker space adjoining the stage.
"Choosing the system was challenging, but in the end, L-Acoustics was decided on for its sound clarity and company status as a leader in line arrays. We also appreciated that their solution included amplified controllers and LA Network Manager show control," Mr. Sato continues.
The decision to partner with Bestec Audio was made based on their passion for the project. "The Bestec Audio team approached this project with as much enthusiasm as we did," Mr. Sato explains. "Their ultimate goal was to offer the best experience to the theatre clients, just as we do. Collaborating with a team who shares our same outlook was a great experience."
The main installation comprises seven Kara in the centre of the proscenium, with the support of a pair of Kiva II flown under it as front fills. Speaker placements on either side of the auditorium theatre are divided into three tiers. Three Kara per side covers the upper section's third-floor seats, while seven Kara enclosures are used in the middle section along with two SB18 subs to reinforce the low frequencies, with a lone X12 deployed to reinforce sound for the front rows of this middle tier. Two Kiva II enclosures are placed on each side to cover the seats in the upper third tier, with an additional A15 Wide per side dedicated to cover a small segment of obscured seats on this floor. Bestec topped the system off with a mobile component of three A15 Focus and two KS21 subs, which can be deployed when the large hall hosts live music performances requiring more dynamic reinforcement or for ad-hoc use in the other smaller hall.
With the renovation of the grand hall completed, a speaker unveiling event was held for the public to celebrate this momentous occasion. Art, music, and performance enthusiasts were invited to experience the new L-Acoustics system by bringing their own music samples to enjoy, followed by an intimate live performance. The event garnered positive feedback from the community, providing promise for successful future projects at Sakura Hall.
The venue is now ready to showcase the spirit and energy of Kitakami's artists. "At Sakura Hall, we strive to keep a high standard of quality and to deliver an outstanding experience to the audience and performers alike," concludes Mr. Sato. "With the new L-Acoustics system installed by Bestec, we feel that we've achieved that."