With almost half of knowledge workers currently working remotely, how does the IT team prepare for the new fiscal year with so much uncertainty? Choosing an enterprise-grade collaboration and communication platform is not only fundamental to business continuity during Covid-19 but has implications for the long-term. As workplace dynamics continue to evolve through these disruptive times, agile employee communication is paramount to business success.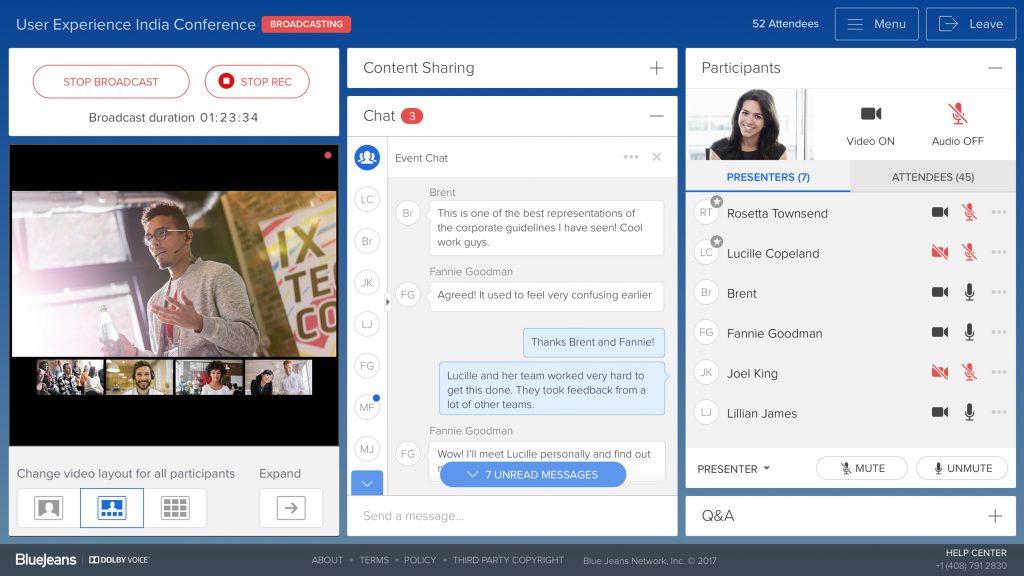 In some ways, the timing of the Coronavirus pandemic has been fortunate. Transformation to new digital means of conducting business has already been underway. Some tools and techniques have reached a level of maturity and adoption to enable many businesses to continue, despite the physical absence of staff and customers from business premises.
The same is true of the adoption of rich media which is now proven to make online communication much more compelling and effective. Video presentations have the secondary advantages of 24/7 availability and consistency – essential in applications such as internal announcements, training, and business updates. All-company meetings, webinars, and town-halls have been supported by new developments from BlueJeans Events with the ability to drive highly engaging presentations via real-time chat, Q&A, polling, and hand-raise options for up to 50,000 attendees.
With these tools at hand, we have seen IT, HR, and communication specialists connect their distributed employee base with high-impact video streaming. Choosing a solution that fills cultural and communication gaps while aligning the far-flung workforce is vital for the future of business operations.
Transformation Acceleration
The rapid onset of the pandemic has stimulated unparalleled growth in the adoption of collaboration technologies. According to a leading European IT distributor, the estimated adoption of these technologies in the past five months is equivalent to that of the last five years.
Another issue which is sometimes not given enough weight is 'user adoption'. There is almost universal agreement that a 'top down' approach works best. For example, putting C-level executives in touch with other staff via corporate town halls will help drive adoption: "If it's good enough for the boss.."
There is also no doubt that the quality of the solution is essential to users' confidence. WFH (Working From Home) workers demand absolute reliability, and exemplary video and audio quality when connecting to the digital workplace. Providing an easy-to-use, download-free join experience should be a key consideration for any buyer. BlueJeans Events can be accessed from any browser, operating system, or device – creating a simple, one-click workflow for all employees.
Audio quality is a differentiated feature for BlueJeans thanks to its integration with Dolby's intelligent noise suppression and crystal-clear sound. BlueJeans argues that, in the rare instance of a video problem, you can still have a constructive presentation with high quality audio alone.
Looking Long-Term
Many workplace industry analysts and thought leaders have written at length about the current and future states of office culture. They've concluded that remote collaboration technology has maintained productivity and knowledge sharing despite physically distanced workers, with the beneficial additions of cost savings and improved work-life balance.
There is a dichotomy at present between the government) "Go back to your offices") and the commercial world ("Why?"), probably to be resolved in favour of a hybrid balance between a few days in the office and the remainder working from home.
The hybrid approach places additional weight on technologies capable of scheduling, planning, and hosting large-scale events for remote workers. The objective is to bring the entire workforce together in a virtual environment with the same interactivity and collective participation that would be experienced if everyone joined from the same office. In a hybrid work setting – split between WFH and on-site office workers – these live streaming presentations accommodate both groups and offer a forum to unify the employee base with a single business message and mantra.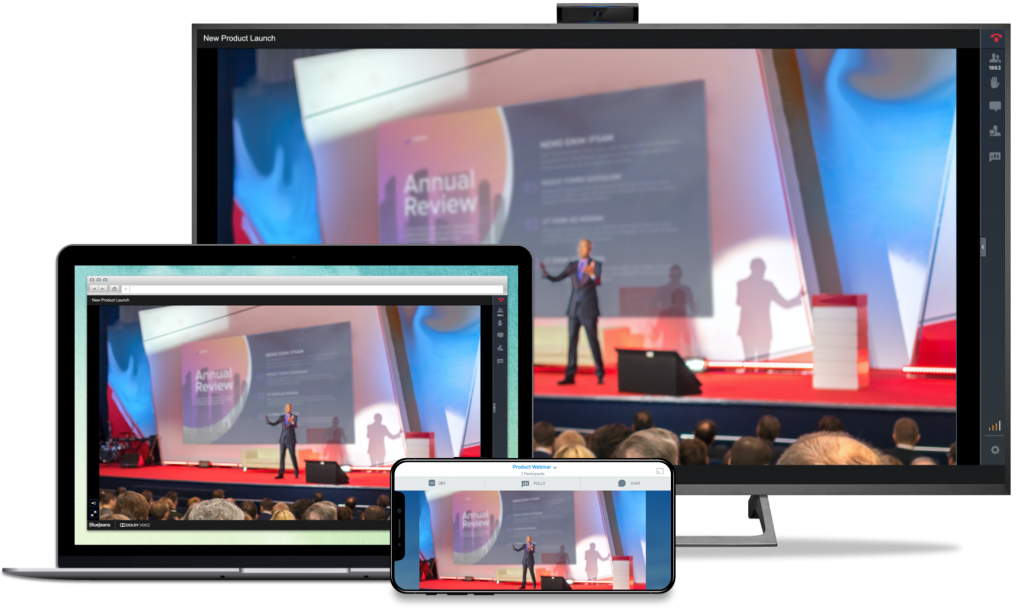 Future Returns
The primary goal for many businesses is to ensure the safety of their stakeholders and comply with local and state regulations. Longer-term, the solution deployed should also satisfy ROI requirements as with every other business technology. Product performance in areas like video quality, user navigation, and unique participant roles (presenter, moderator, attendee) are important aspects in driving adoption and positive NPS across the organization. Additionally, security and updated safeguards for end users and admins are woven into the roadmaps of industry-leading broadcast software.
For the immediate future, the most important decision for a technology buyer is to have confidence that the solution is truly enterprise quality. Flexible, future-proof video streaming platforms like BlueJeans Events bring the workforce together from any endpoint and integrate with popular business productivity tools for a seamless user experience.