News24.com, a site owned and operated by South African news group Media24, last month launched the world's first customised synthetic voice for news. Subscribers to the newly introduced digital subscription package will be able to access audio versions of all news articles available on the website. Whilst media companies have experimented with pre-existing text-to-speech, News24 contracted SpeechKit, a UK-based technology company, to build a voice specific to the region.
Kelly Anderson, Deputy Site Editor at News24.com says: "We decided to work with SpeechKit and develop a custom synthetic voice to deliver our subscribers the value they deserved. Existing voices struggled to handle pronunciations unique to South African accents and it was imperative that the voice resonated with our readers. We're thrilled with the result.  The voice handles local names, towns and places better than anything we've heard before. It's much more engaging to listen to a voice that sounds like our brand."
Audio articles, automated using text-to-speech technology, are rising in popularity as the format moves through the technology adoption curve. Publishers are able to instantly deliver audio versions of their stories through media players embedded on their websites and apps, or through platforms, such as Spotify and Apple Podcasts. This format gives subscribers a new way to engage with articles whilst they get on with other tasks.
Patrick O'Flaherty, Co-Founder and CEO at SpeechKit adds: "We're excited to partner with News24 and bring this new voice to their readers. Bringing local accents to audio articles will help take this emerging format to a new level. Our focus at SpeechKit is building seamless and engaging listening experiences. By creating a voice that reflects the local audience we're already seeing improvements in the listening data."
SpeechKit develops and integrates high-quality custom synthetic voice technology and audio publishing tools. Research shows that listening comprehension improves when sentences are spoken in a native accent. Up to this point, the team has been working primarily with existing text-to-speech technology.  By creating integrations for newsrooms that allow readers an option to listen SpeechKit allows publishers to improve engagement and retention of news audiences.
The shift in news business models, from advertising-based models towards reader revenue, is forcing publishers to improve their digital retention with new products and strategies. In a recent Reuters Institute report, over half of the publisher respondents claimed audio would be a focus for them in 2020. New technologies, hardware, and audience behaviour are paving the way for a more immersive and modern audio news experience.
SpeechKit was founded by Patrick O'Flaherty and James MacLeod in 2017, after an experiment building a curated audio news digest. Realising that intensive podcast production would serve only a handful of publishers, they developed a platform to automate audio versions of news stories. The service is live on 75+ publishers worldwide and the company recently raised investment from Newark Venture Partners, backed by Audible.
Yamaha ADECIA audio solution
Yamaha has announced ADECIA – a family of communication products designed to work together seamlessly to provide a complete and customisable audio solution for any enterprise or meeting space. From input to output, ADECIA is designed to ensure the high-quality audio communication for which Yamaha is well known. The comprehensive conferencing solution introduces the RM-CG ceiling array microphone and RM-CR remote conference processor and includes Yamaha's long-trusted PoE network switches and VXL Series Dante PoE line array speakers.
"Historically achieving professional audio quality – be it in a training room, conference room, multi-purpose room, or the board room — has required an incredible amount of work and costs to design, install, and set up. Historically achieving professional audio quality – be it a training room, conference room, multi-purpose room, or the board room — has required an incredible amount of work and costs to design, install and set up," said Nobuo Ikematsu, senior general manager of information & communication division, Yamaha. "The introduction of ADECIA now allows customers to easily customize and configure a full-room UC solution that's user friendly and delivers the best audio results in any room. With added safety requirements in today's spaces, the ADECIA ceiling microphone solution can allow for social distancing and reduced contact without hindering the conference experience."
With over 130 years of history dedicated to mastering the best possible sound quality, whether it be world-class instrument sound output, concert hall acoustics or high-tech DSP algorithms, Yamaha has encompassed this collective knowledge, technology and research to develop solutions that solve today's communication challenges.
ADECIA enables organisations to overcome challenges with implementation, configuration, and room acoustics by providing all the equipment required for a successful installation with the highest audio quality. Every component of the system, from the microphones to speakers as well as the required networking and communication equipment, automatically integrates thus reducing time, costs, and installation complexities.
The complete solution immediately detects all components of the system and configures them to be optimised for the room environment, accounting for the location of speakers and microphones, reverberation characteristics of the room, and echo behaviour. Setting up a room is done through the system's configurator in four effortless steps. With USB, Bluetooth, Dante, and analogue connections, this flexible system can fit a wide variety of room types.
The ADECIA solution combines Yamaha's new dynamic beamforming ceiling array microphone (RM-CG), remote conference processor (RM-CR), a Yamaha Dante-optimized network switch, and VXL Series line-array Dante PoE powered speakers. Together, the system supports multi-beam tracking technology, Human Voice Activity Detection, Noise Reduction algorithms, speaker tracking, adaptive acoustic echo cancellation, and much more. These automatic, smart audio technologies empower crystal clear, stress-free remote communications.
Utilising an open control interface, the new Yamaha RM-CG ceiling array microphone and RM-CR remote conference processor can also be used with other Yamaha or third-party components for even more flexibility in the system's design.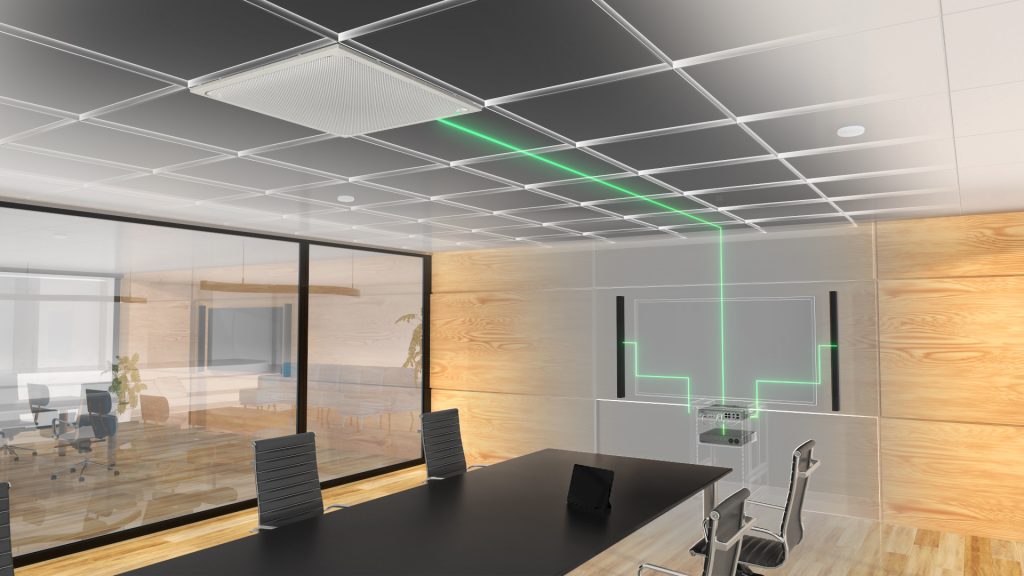 Yamaha has announced ADECIA – a family of communication products designed to work together seamlessly to provide a complete and customisable audio solution for any enterprise or meeting space.
Introducing latakoo DAILIES
latakoo, a leading developer of software solutions for the broadcast production industry, has announced the release of its new latakoo DAILIES. Aimed at production companies, DAILIES is a time and cost savings workflow tool that enables video professionals to rapidly ingest video files from the shoot location to the latakoo cloud for post editing. latakoo DAILIES has been optimized for teams using Avid Media Composer, creating a more rapid transfer of video files into Avid edit bins and saving precious post-production time for deadline work.
latakoo DAILIES builds on the company's cloud-based platform by now enabling video crews to send lightweight proxy files to editors within minutes of a shoot. Proxy files are created and rapidly uploaded to secure latakoo cloud accounts using the patented latakoo compression and upload process for storage and sharing. Associated metadata for files – including video card number, shoot date, camera ID, project number or a user customised field – can be collected for each group of transferred videos. Uploaded files are automatically downloaded by latakoo HUB and placed inside a shared drive. Editors can then simply drag the group of files into the appropriate bin in Avid Media Composer. The files, along with associated metadata, automatically populate the Avid bin with accurate information.
DAILIES has been created to support video ingest with or without the use of an asset manager. Employing latakoo's HUB product, DAILIES complies with customers' corporate firewalls and security standards, and can seamlessly integrate with asset managers, including those offered by Avid, Dalet, Grass Valley and Bitcentral systems.
"Production companies can save several days' time by using latakoo DAILIES' automated video workflow because it removes many onerous tasks, like driving or shipping a hard drive filled with the day's video back to the post house for manual ingest," said Paul Adrian, CEO of latakoo.
"We shortcut a long process by creating a proxy file on location and delivering it that same day through the internet to the post house where latakoo atomizes the video for use in Avid Media Composer. latakoo also creates Avid's AAF files to deliver the accompanying metadata within minutes or seconds of the original transfer to our cloud."
The latakoo HUB server sits inside the user's firewall and automates the download and transcode of video from the cloud. Files are checked into the user's asset manager or playout system with accompanying metadata. HUB also uploads files from the asset manager to the cloud, where files can be made available to remote team members or transcribed. HUB supports 608/708 closed captioning.
ExoMetrics Wrist contactless temperature screening
BrightSign has announced that EonDigital, Inc. has incorporated the BrightSign HD1024 media player in its new temperature screening solution, ExoMetrics Wrist. This innovative new solution quickly is said to achieve highly accurate temperature measurements by taking hundreds of temperature readings in just a matter of seconds. This hands-free solution all but eliminates false positive readings and enables businesses to safely screen patrons with minimal disruption.
"EonDigital's unique approach to touch-free temperature screening is precisely the sort of forward thinking we need to squarely address the challenges associated with safe business operation during this pandemic," said BrightSign CEO Jeff Hastings. "It's gratifying to see the many ways companies like EonDigital are adapting BrightSign's technology to bring their innovative solutions to market."
Temperature checks have become an essential part of businesses re-opening in the wake of COVID-19. Common temperature-screening methods either rely on hand-held devices that pose a viral transmission risk, or hands-free solutions that work effectively only when used properly by the patron or customer. ExoMetrics Wrist overcomes these challenges with its unique design and engineering.
While most temperature screening devices use the forehead as the point of measurement, EonDigital's new device focuses on the wrist, an area of the body that is less likely to produce an artificially high reading due to physical exertion or environmental conditions. Not only does the wrist yield a more accurate reading, ExoMetrics Wrist actually takes approximately 300 readings in just a few seconds, yielding a temperature measurement accurate within .5 degrees Celsius. ExoMetrics Wrist also takes advantage of a powerful algorithm that processes recent readings to identify environmental trends, further reducing the likelihood of false positive readings.
"We conducted extensive research to isolate the most common shortcomings of conventional temperature screening devices, and we designed ExoMetrics Wrist to specifically address those challenges," said EonDigital co-founder Chris Dotson. "Not only does measuring one's wrist enable us to render a more accurate temperature reading, but there are also ergonomic advantages to our design that make the device suitable for a broader population."
ExoMetrics Wrist sits at a comfortable height that is suitable for use by children and adults alike. Similarly, the device is within easy reach of people who may be seated in a wheelchair or other assisted mobility device. This broad accessibility suits ExoMetrics Wrist particularly well not just to businesses and retail environments, but also to airports, theatres, and other entertainment venues that attract a diverse crowd of all ages.
EonDigital has a proven track record of leveraging the power of BrightSign in a variety of environments, including high-profile projects in educational, scientific, retail and corporate settings across the country. ExoMetrics Wrist is the latest collaboration between BrightSign and EonDigital, whose partnership has spanned nearly a decade. The next such integration will involve InReality, helping the company expand its advanced software platform that powers Safe Space solutions to help businesses safely resume operations following the COVID-19 shutdown.
INSERT PIC with caption:
EonDigital, Inc. has incorporated the BrightSign HD1024 media player in its new temperature screening solution, ExoMetrics Wrist
Black Box makes the IoT Building a reality
Black Box has introduced 'Connected Buildings' – a suite of solutions and services that enable digital experiences in smart, IoT buildings. Black Box designs, deploys, manages and maintains the foundational technology that connects the internal ecosystem of interoperable devices and sensors that work together to enable human-to-human, human-to-device and device-to-device interaction. Black Box's Connected Buildings services modernise IT infrastructure, solve in-building connectivity challenges and link clients' devices at locations around the world.
"Demand for the IoT building is growing exponentially. Now more than ever, our customers need spaces that are interactive, adaptive, automated and secure," said Doug Oathout, senior vice president, Portfolio and Partnerships, Black Box. "At Black Box, we apply our broad portfolio of IT solutions to take the complexity out of connected buildings and make it simple for our customers by giving them one trusted partner to handle their IT services. Whether updating hundreds of existing locations or outfitting one location from the ground up, our team of project managers, engineers and technicians works with our clients to craft a solution that creates consistent customer experiences and reliable communications at every location."
The Black Box Connected Building is enabled by several faster, more robust technologies: 5G/CBRS and Wi-Fi to augment existing wireless systems and create fully connected buildings; edge networking and data centres to collect data where it's created and combine it with AI to make smarter devices; and cybersecurity for governance and assessments, incident and event monitoring, endpoint detection and response, and VPN and firewall services.
The Connected Building service offering includes assessment, consulting and project management, coupled with on-site services for configuration, staging, installation and logistics. Black Box accomplishes this with four solution offerings:
Multisite Deployments. The Black Box team is able to handle large-scale national/global installations and provide uniform IT at hundreds or thousands of sites.
IoT Deployments. The explosion in IoT solutions is enhancing the user experience for both customers and colleagues. The Black Box team can supply and install cameras, digital signage, POS, sensors and other in-building IoT technologies.
Structured Cabling and Networking to enable the seamless digital experience that is the true foundation of the Black Box Connected Building. The Black Box team will ensure that clients have the infrastructure necessary to support future bandwidth requirements.
Digital Transformation for seamless user experiences. With thousands of certifications and technicians, Black Box can manage the implementations and deployments that drive global transformation.
"With Connected Buildings, our role is to simplify IT for our clients – especially in complex enterprises and when they have little or no remote IT support – all while helping them meet the device deployment challenges inherent in digital transformation," Oathout added. "The results speak for themselves: IT operations managers who have chosen Black Box as their digital transformation partner have cut project costs by more than 33%, slashed the time for retrofitting existing locations from years to months, and experienced the same high-quality results whether they're based in Mexico City; Mumbai, India; or Memphis, Tennessee."