Poly has announced the appointment of Dave Shull as President, Chief Executive Officer and a member of the Company's Board of Directors. Mr. Shull succeeds Robert Hagerty, who has served as Interim Chief Executive Officer since February 2020. Mr. Hagerty will continue in his role as Chairman of the Board and resume his membership on the Nominating and Governance and Strategy Committees, as well as his role as Chair of the Mergers and Acquisitions Committee. Marv Tseu will continue in his role as Vice Chairman of the Board.
"Dave is a technology veteran whose global operations and telecommunications expertise, together with his extensive leadership experience and fresh insights, make him an outstanding leader for Poly," said Mr. Hagerty. "Poly's rich technology history, diverse end markets ranging from offices and call centres to consumers, and proven focus on excellence in innovation mean that we have a tremendous opportunity ahead of us. The addition of an enthusiastic, creative thinker like Dave is, in the Board's view, a recipe for long-term success and growth. On behalf of the Board, I am pleased to welcome Dave to the Poly family."
"The COVID-19 pandemic has changed the world for all of us – especially how we interact and connect with others, both professionally and personally," said Mr. Shull. "Poly has been leading the world for decades in connecting teams wherever and however they want. Its world-class audio, video, and software engineers are focused on creating the best communication endpoints that sound great and deliver amazing video and are also consistently reliable and manageable for the most demanding users. We expect the fundamental shift to remote work and to the cloud will endure well beyond the pandemic, and the market opportunities created by the work-from-anywhere revolution are significant and exciting. This is a pivotal time in Poly's history, and I am excited to lead this talented team during this transformational period."
Mr. Shull most recently served as President and CEO of TiVo Corporation, where he gained significant consumer hardware experience and reinvigorated the image of the TiVo brand through a new corporate narrative and a cutting-edge streaming product. Under Mr. Shull's leadership, TiVo's adjusted EBITDA grew 55% from Q1 2019 to Q2 2020. Prior to leading TiVo, he served as CEO of The Weather Channel. Mr. Shull brings over 15 years of senior leadership experience in digital media, commercial marketing, operations, and telecommunications. He also brings extensive global experience in operational transformation, complex business partnerships, corporate development and capital markets. Prior to serving as CEO of The Weather Channel, he held various executive roles at DISH Network/EchoStar for 10 years, including Executive Vice President and Chief Commercial Officer, Senior Vice President, Programming, Senior Vice President and Managing Director, Asia Pacific, and Vice President, Operations. Mr. Shull holds an A.B. from Harvard University and an M.B.A. from Oxford University.
Dave Shull Poly's new President, Chief Executive Officer and member of the Company's Board of Directors.
VuWall has announced the appointment of Todd Alan Green, based in Houston. and Dave Barletta, based in Philadelphia, as Senior Business Development Managers for the US Market. They will be working alongside Christian Cooper, Regional Sales Manager based in Miami and Francisco Provencio, Application Engineer based in Atlanta, all reporting to Maryse Montagne, Sales Director for North America, based in VuWall's Headquarters in Montreal, Canada.
Todd and Dave bring over 60 years of combined experience in the audio-visual industry, with a strong focus in control room technology and AV distribution. Prior to joining VuWall, they lead the Control Room Sales Team at Christie Digital Systems for four years.
"Dave and Todd are established professionals and I am thrilled to have them join our sales team," said Paul Vander Plaetse, CEO at VuWall. "Their expertise, enthusiasm and strategic sales approach will bring us enormous value, helping VuWall respond better to the US market requirements. Their ideas and understanding of customer needs in this demanding market will certainly influence the future of our company."
Todd has extensive hands-on experience and certifications in advanced IP networking, AV-over-IP systems, video streaming and collaboration, telemedicine, video production, Internet of Things, mission-critical applications and augmented/virtual reality technology. Todd's extensive IP networking and video distribution background helped him build sales channels at VBrick, Phonoscope Communications, Haivision and Christie Digital Systems.
Dave's thirty years of audio-visual experience spans across many facets, from end user to system design, integration, and manufacturing expertise including video wall design and implementation. During his time as a solution provider, he has worked with consultants, channel partners and end users to help solve their display and processing needs within control rooms, secure facilities, boardrooms, classrooms and corporate lobbies.
"We are extremely excited to maximize VuWall's enormous potential in the US market as the company is perfectly positioned to address today's visualization needs with their interoperable and customer-centric approach," said Todd Green. "VuWall's high-quality product line, impressive global deployments, and unique company culture is the perfect fit for us," concludes Dave Barletta.
VuWall has announced the appointment of Todd Alan Green, based in Houston. and Dave Barletta, based in Philadelphia, as Senior Business Development Managers for the US Market.
The NetworkTV team is joined by long term Exterity executive Jeff Loadman as sales director. Loadman has been involved in AV and broadcast for over 35 years. Starting his career as an engineer for an equipment manufacturer, he quickly moved into sales, working with various system integrator and manufacturer organisations.  For the past 15 years, he has focused on the specification, design and sale of enterprise IPTV solutions as channel sales manager at Exterity.
NetworkTV is the trading name of Azure Development Solutions.  Founded in 2013 by ex-AMX employee Phil Dodds, this privately held company has focused on developing unique IP based video software and is using its wealth of experience and knowledge to develop, market and support its new hardware agnostic IPTV video content management system. The company has also recently secured an agreement to distribute Visionary Solutions high tech network-based AV products in the UK and has sales and support globally through an existing supplier network.
Loadman's role will be to bring integrated IPTV, AVoverIP, PTZ cameras and web streaming solutions to market, combining and enhancing the benefits that each technology brings individually. Commenting on his move to NetworkTV, Loadman said: "I am looking forward to being involved in product development decisions that ensure NetworkTV continues to provide the products and functionality that meet the current and future needs of our customers."
Loadman's appointment comes fast on the heels of an announcement that NetworkTV has secured a distribution agreement to supply Visionary Solutions AVoverIP network solutions. NetworkTV director Phil Dodds comments: "Jeff brings a wealth of knowledge and experience in all aspects of IPTV solutions, developed over many years at respected organisations. It's pleasing that our recent agreement with Visionary Solutions, along with a clear strategy to grow our own IPTV product, is allowing us to attract professionals of Jeff's capabilities to help us deliver our plans."
Exterity executive Jeff Loadman joins NetworkTV as sales director. Loadman has been involved in AV and broadcast for over 35 years.
Integrated Systems Events has announced the appointment of Jo Mayer as its Senior Director of Marketing. Mayer joins from EasyFairs, a leading pan-European multi-format event organiser, and has over 20 years' experience in trade shows, conferences and B2B publishing. In her new role, Jo Mayer is responsible for overseeing the company's marketing and content strategy across multiple platforms in the run-up to its flagship event, Integrated Systems Europe (ISE) in 2021, and beyond.
"Jo is a hugely experienced trade show marketing professional, with an enviable track record of successful events to her name," commented Mike Blackman, Managing Director of Integrated Systems Events. "Her wealth of know-how and expertise will bolster our existing team and ensure we satisfy the varied needs of our loyal exhibitors and visitors alike and drive new audiences and formats. Jo joins us at a time of significant upheaval for the events and pro AV industries alike and I am looking forward to tackling these challenges with her."
"I'm excited to be joining Integrated Systems Events at this crucial time in its long and successful history," added Mayer. "The transition to Barcelona is well underway and an exciting new era for the show awaits. The run-up to the show is a crucial period, in particular this year with its unique conditions, and I'm very much looking forward to the challenges and opportunities that lie ahead."
Mayer will take her place alongside Operations Director André Hooijer, as part of the Integrated Systems Events Senior Leadership Team (SLT). The third member of the SLT is George Buckingham, recently promoted to Senior Sales Director, who joined the company at the start of 2019 from global specialist media and information business Haymarket. The SLT reports directly to Blackman and is tasked with overseeing the move to Barcelona in this transitional year.
Mayer is a seasoned B2B marketeer with over 20 years' experience spanning exhibitions, conferences, digital and print. She has been pivotal in delivering award-winning campaigns for Easyfairs, Nineteen Events, Clarion and UBM working on flagship brands across a variety of sectors, including ICE Totally Gaming, Ecobuild, IFSEC and Confex.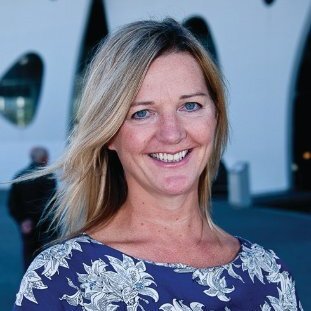 Integrated Systems Events has announced the appointment of Jo Mayer as its Senior Director of Marketing.