Global LED display solutions manufacturer, Absen, recently built an impressive LED display in the SANY Group H. Boasting Absen's new indoor fixed install LED product for the APAC and LATM regions, the KL Series (note: EU and US version also available), the video wall was built as part of China's national strategic initiative to further develop the manufacturing sector, called 'Made in China 2025'.
The 5G display terminal sits at SANY Group's factory No.18 – an intelligent manufacturing workshop in Changsha. In collaboration with partners ZTE and Huawei, SANY Group has jointly developed 5G smart manufacturing applications showing the revolutionary impacts of 5G in industrial production. SANY Group's core company, SANY Heavy Industry was founded in 1994 and is China's largest and the world's fifth largest construction machinery manufacturer. It is also the largest concrete machinery manufacturer in the world.
As one of the world's leading equipment manufacturers, SANY Heavy Industry deals with complex challenges in network security, service centralisation as well as physical environment. Existing wired and wireless private networks are not able to meet such heavy communication requirements, creating an urgent need for high-bandwidth, low-latency, high-reliability, and easy-to-deploy networks to provide connected and smart operational support for smart manufacturing.
Capable of handling 5G, the newly installed screen displays two video streams of HD surveillance data, which are then transmitted and distributed to a campus monitoring centre using Multi-access Edge Computing (MEC) through the 5G network. The 5G data creates high level requirements for the display terminal and the KL series is able to meet all of them. The 2.5 mm pixel pitch LED screen is able to display a number of real-time operation images in HD, helping operators to monitor critical activity in the factory, including components transported through the hanging systems, and the robotic arms handling product materials.
Boasting high brightness, greyscale, contrast ratio and refresh rate levels, Absen's newly launched KL series is well suited for a wide array of commercial and domestic applications. Using turnkey LED displays instead of components that need to be assembled on site, the KL series not only helps save time and labour cost, but also improves the end quality of a project.
Commenting on the installation, Absen's project manager Leon Liu said: "Very large display areas bring great challenges to the overall uniformity, flatness, stability and even life-span of the installation. Our products are calibrated after going through a series of critical product tests, which ensures high visual uniformity over time and maintains the product lifespan at component level. The KL panels are also made of fine die-casting aluminium, which further ensures the flatness of the overall display for an excellent visual impact."
Security and maintenance were also key factors since the LED video wall is installed on a steel structure 5 m above the ground. With a depth of only 70 mm, and weighing only 7.8 kg per panel, the KL series was perfectly suited for this project. It also offers front and rear installation and maintenance, and its design embeds the PSU (power supply units), cables, receiving cards as well as other key components. Absen had already worked with SANY Group in the past, when the company installed two 1.2 mm pixel pitch screens of respectively 30.12 sqm and 7.53 sqm in SANY Heavy Industry's conference and reception rooms, featuring Absen's A2712 and CR1.2 products.
Terry Zhu, product manager at Absen, concluded: "Fine pixel pitch is a growing trend for many new projects and as a leading company with a worldwide reputation, SANY embraces this trend. Their user experience is extremely positive. We are proud to be part of this pioneering 5G deployment, with products that perfectly answers the drastic requirements that 5G calls upon."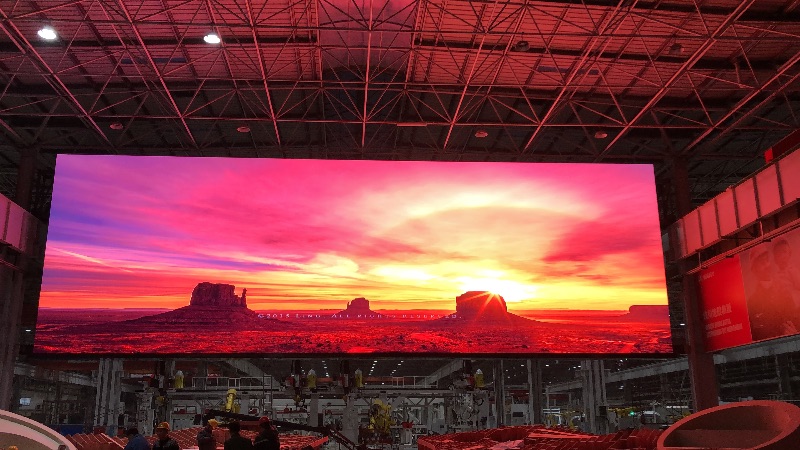 Absen's The 5G display terminal sits at SANY Group's factory No.18 – an intelligent manufacturing workshop in Changsha.
Teleperformance transforms comms with Avaya OneCloud Subscription
Teleperformance has chosen Avaya OneCloud Subscription to transform their communications platform by deploying 126,000 Unified Communications (UC) and Contact Centre (CC) seats to increase employee productivity, maximize team collaboration, and drive higher levels of customer satisfaction across its sites in nine countries. Avaya is a global leader in solutions to enhance and simplify communications and collaboration.
Earlier this year in response to the COVID-19 pandemic, Avaya worked with Teleperformance to significantly expand their deployment of home-based agents to upward of 170,000 to help keep employees safe while ensuring business continuity for their clients. Building upon thatfoundation,AvayaOneCloudSubscription now supports Teleperformance's global footprint, helping provide a path to modernise their customer's communications environment and support the continued pressing needs for agent desktop flexibility amid long-term "work from home" requirements. The new 3-year subscription spans all world regions.
"Teleperformance remains focused on the mission to support our customers by the use of reliable, flexible and intelligent technological solutions plus compliance with the industry's highest security and quality standards," said Dev Mudaliar, Global CIO, Teleperformance. "We're pleased to expand our partnership with an industry technology leader like Avaya to power our highly reliable, secure and adaptable infrastructure. Avaya's OneCloud offering is perfectly aligned with our Teleperformance global Cloud Campus strategy which makes the customer experience simpler, faster and safer all around the world."
"For many global customers like Teleperformance, moving to a subscription model for their on-premise communication infrastructure is a logical next step in their journey to the cloud and to accelerate their overall business transformation," said Jim Geary, Vice President Global Enterprise Accounts, Avaya. "By integrating Avaya OneCloud Subscription, Teleperformance can better meet the needs of their customers while still having the flexibility for a transition path to the future in a way that work best for their business."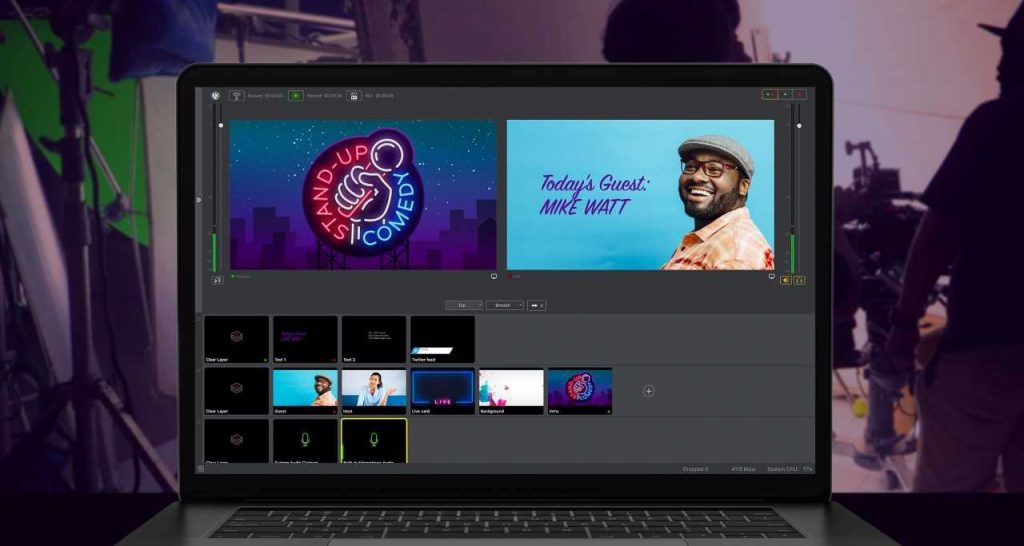 Teleperformance has chosen Avaya OneCloud Subscription to transform their communications platform by deploying 126,000 Unified Communications (UC) and Contact Centre (CC) seats.
Giant iTab launches hybrid sanitiser smartphone
Event technology and digital solutions provider Giant iTab has launched the world's first Hybrid Sanitiser Smartphone to keep event attendees safe during the pandemic. Based on its award-winning smartphone solutions, the new kit has added health and safety features including auto hand-sanitiser and a visitor temperature reader plus analytics to show how they were used (where and when) with an on screen message each time the sanitiser is used. Good hand-hygiene is an integral part of stopping the spread of harmful germs and bacteria in the current climate and will be a top priority for event organisers and venues as events re-start.
The 22″ Hybrid Sanitiser Smartphone has been uniquely designed for use at events as well as in offices, shops banks, hotels and restaurants. It comes with optional touch screen capability enabling enhanced interaction and engagement with digital content and a temperature monitor where visitors offering their wrist to the infrared monitor will be given a green or red indicator light to confirm that they (and then fellow delegates) are safe to enter the premises. The unit can dispense both alcohol and water-based sanitiser solutions to suit all users. Water-based sanitisers, for example, are much more suitable for those with sensitive skin conditions or those who forbid alcohol for religious or cultural reasons.
Digital signage provides the flexibility to present key messages for each individual conference on the smartphone's screen. Key information such as floorplans, exhibitors, speakers, conference schedules and delegate lists can all be presented as live feeds using your event brochure, website or app. These replicate the smartphone experience perfectly and are always up to date, unlike printed event guides. The choice of information displayed on screen can be adapted and changed during the course of any event such as welcome signs at the beginning, conference information during the event and the latest travel, traffic and weather information for visitors leaving the venue as the event comes to a close.
Giant iTab's CEO Mark Jones says: "In today's new normal where hygiene is key, sanitiser kiosks are becoming an essential part of everyday life. Combining an auto hand-sanitiser with a versatile digital signage display, our plug 'n' play solution ensures that you are making the right investment to protect your staff and customers by preventing COVID-19 at events. If you are thinking about planning events, this is the perfect solution to keep everyone safe, get your message across and show that you care."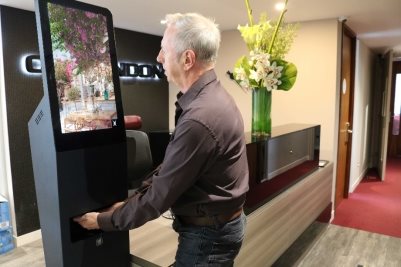 Event technology and digital solutions provider Giant iTab has launched the world's first Hybrid Sanitiser Smartphone to keep event attendees safe during the pandemic.
Palas patent detects virus particles in the air
Palas GmbH has applied for a patent for measuring device that supports the immediate detection of particle concentration in exhaled air. "With this product we are setting standards in the development and production of aerosol measuring devices of breathing air", says Dr Maximilian Weiß, CEO of Palas GmbH. "Latest technologies, combined with our extensive expertise in the field of aerosols, make this exhalation device particularly reliable and accurate. It can thus help to detect so-called "superspreaders". This can make a decisive contribution to containment, especially during the current COVID 19 pandemic".
People to be tested breathe into the exhalation measuring device BD the evaluation takes place immediately. The device shows how many particles of each size are present in the exhaled air. The virus particle sizes serve as an indicator for a the presence of a potential disease in the tested person. So-called "superspreaders" can be detected by a high number of exhaled aerosols. Aerosols are a mixture of a gas and solid and/or liquid components. While the larger exhaled droplets sink to the ground faster, smaller particles circulate in the air for longer.  In its profile on coronavirus disease-2019, the Robert Koch Institute describes that aerosols produced when people speak, cough or sneeze play a role in the transmission of SARS-CoV-2: for example, when many people gather in insufficiently ventilated indoor spaces.
The World Health Organization (WHO) has also already recognized the risk of spreading SARS-CoV-2 via aerosols. In a signed statement to the WHO, some 240 scientists had pointed out that aerosol transmission has a significant impact on the current pandemic situation. Palas GmbH contributed its long-standing expertise in the measurement of aerosol particles to the development of the new exhalation measuring device. In July 2020, the company developed a new mask test laboratory together with the independent testing service provider TÜV NORD and BASF on the innovation campus of BASF in Shanghai, in which Palas testing devices are applied. The initiative thus supports the German Federal Ministry of Health in the procurement of masks from China for medical and non-medical purposes.
Telarus UK joins Avaya Master Agent Programme
Telarus, the international distributor of business cloud infrastructure and contact centre services, and Avaya have announced that Telarus would begin offering the new Avaya Cloud Office by RingCentral UCaaS solution to its extensive partner network in the UK. This will broaden the reach of the new app and help agents drive COVID-19 business recovery by giving them access to an efficient, all-in-one UC-as-a-Service (UCaaS) offering that solves the challenges of distributed working. The news comes as Gartner predicts 90% of all new UC purchases will be cloud-based UCaaS by 2021, up from 50% in 2018.
With employees now working from various locations, it is vital to maintain a consistent communication experience and ensure that staff have access to the most powerful collaboration tools, no matter where they are. The partnership will help businesses achieve this as they navigate the 'new normal' of distributed working. By moving communication and collaboration to the cloud, businesses can stay agile and flexible as employees adapt to work from location to location.
Shane Speakman, vice president of business development – UCaaS, Telarus, said: "As agility is vital in today's rapidly evolving business landscape, organisations must make smart technology investments – as an all-in-one solution, Avaya Cloud Office offers businesses every feature they may need to make remote working a success."
"Having witnessed the strong uptake of Avaya Cloud Office in our Canadian market, we are also excited to replicate this with our extensive partner network in the UK. With our portfolio of over 160 leading service providers and the best support organisation in the industry, we are well-positioned to accelerate end-customers' journey to the cloud amidst the current shift to new ways of work, as well as help our partners diversify and grow their businesses."
Created through a strategic partnership with RingCentral, Avaya Cloud Office is a world-class UCaaS solution offering all-in-one, multi-channel communication and collaboration capabilities, including enterprise-grade calling, messaging, video conferencing, file sharing and collaboration. Employees can stay in contact with one another and access a single, centralised database of information, regardless of their location or device. As organisations across the world begin to adopt new work policies, it is now more important than ever to empower teams to maintain collaboration and productivity from any location and on any device.
With over 130 business application integrations, users can create a truly personalised cloud communications and collaboration experience that suits their unique needs. By operating on a flexible subscription model, organisations stay agile and rapidly scale their cloud requirements up or down as needed, at any time.
Shub.one launches business social media platform
Shub.one the business social media platform has been launched. This is a new platform for both B2B and B2C businesses to promote their brand, products and services. With a host of features on the platform to help businesses of all sizes and particularly those that sit within the SME and Micro categories.
The creators of Shub.one say "Small, medium and micro (freelance) businesses have been left to fight for virtual space amongst corporate's for too long. We built this platform for them and for their customers." says Mark Fryer, founding partner.
Current features include:
The ability for anyone to share details with a click (tap). This allows the user to share however they need to via SMS, Messenger App, email and so on.
• Ability to review as often as required.
• An area where all current social media & external links can be added.
• A resume & project timeline with photos videos and links
• Profile page with full bio, contact details, promo video links (YouTube, Vimeo etc)
• Unique user QR code for easy sharing
• News feed for businesses to post updates to business followers.
• Up/Down vote feature on news feed comments. Great for routing out any unsavoury or unwanted posts.
With many more features currently in the pipeline for staggered release and mobile apps in development, what's the price tag? "Shub.one is free to use for all businesses. Creating a profile is free, posting is free, sharing is free. It's what businesses need and it's what they deserve," said Adrian Wheeler, founding partner.
To check it out for yourself and grab yourself a free space on Shub.one, visit https://www.shub.one/shub.one.
Barco and Culturespaces partner on Bassins de Lumières
A new exposition, called Bassins de Lumières, has opened in Bordeaux, France. The exposition already welcomed more than 300,000 visitors to discover the fine art of Gustav Klimt and Paul Klee in the unexpected setting of a former World War II submarine base. The famous artwork has been recreated by digital artists and is being brought to life by more than 100 Barco projectors as a visually astounding spectacle. The new exposition is the crowning achievement of a   recently renewed partnership between Barco and Culturespaces, a key player in Europe's cultural landscape.
Culturespaces has a history of many years working with Barco projectors to create digital art experiences. Bassins de Lumières in Bordeaux is the first project since the renewal of the partnership between Barco and Culturespaces in December 2019. Located in a former World War II submarine base facing the Atlantic Ocean, Bassins de Lumières offers an overwhelming, immersive experience devoted to major names in the history of contemporary art. The Bassins de Lumières program will alternate every year, but the first exhibitions are dedicated to Gustav Klimt and Paul Klee. Moving images of the artwork are projected onto the monumental architecture of the submarine base and reflected in the water of four enormous basins. Visitors can virtually walk into the artwork, by gangways and along the quays of the basins.
"Bassins de Lumières offers a totally unique, sensory experience, including projected video, light and sound," says Augustin de Cointet de Fillain, Director of Bassins de Lumières and Culturespaces Digital, the exposition organizer. "The mix of the location, the recreated artwork from Klimt and Klee, and the superb image quality of Barco projectors make this exposition an unequalled experience."
"Following the creation of the Atelier des Lumières, we are pleased to have created this enormous digital art centre for the City of Bordeaux," says Bruno Monnier, President of Culturespaces. "The Bassins de Lumières will offer visitors an unforgettable visual and audio experience in a unique setting, a place for sharing culture that is open to all types of visitors."
The enormity of the submarine base structure and available projection surface – almost 14,000 m2 – made the organisation decide to pull out all stops when it comes to projection technology. Culturespaces opted for no less than 72 Barco F80-Q12, 27 G60-W10, and 3 UDX-W32 laser projectors to be installed for the Bassins de Lumières project.
Previous Culturespaces projects with Barco projectors have proven to be successful as well. The French cultural organization already created similar digital art centres in Paris, with the Atelier des Lumières, and in Les Baux-de-Provence, with the Carrières de Lumières. But the new Bassins de Lumières project surpasses the previous ones in size: the submarine base's surface area is three times the size of that of the Carrières de Lumières and eight times that of the Atelier de Lumières.
Culturespaces renewed its partnership with Barco in December 2019. The organization chose Barco as the exclusive projection technology partner for existing and future projects for three years. Both companies agreed on the delivery of 168 new laser projectors and a Barco service contract covering the entire equipment fleet. According to Augustin de Cointet de Fillain, Bassins de Lumières received raving feedback upon its opening in June 2020, which should only make the organisation more confident to work on new visual showpieces with Barco.
Bassins de Lumières offers an overwhelming, immersive experience devoted to major names in the history of contemporary art.
Jan De Witte, CEO of Barco, visits les Bassins de Lumières together with Bruno Monnier, President of Culturespaces.