Bringing back the crowds
There's no doubt that some events, from a football match to a trade show, just don't work as well without a live audience. With the R rate increasing at the time of writing, we seem to be a long way off welcoming back the crowds to public events. But there is some good news: progress has been made on monitoring and rapid testing, UC News reports.
All kinds of technology companies are engaged in developing mass testing solutions as a step in readmitting large-scale audiences to public events. Sport, the arts, and commercial events, like conferences and exhibitions, have all suffered over the last six months, with many events confined to performances behind closes doors. Getting the crowds back has become a priority if many organisers of such events are to survive the Covid-19 pandemic.
The problem is essentially one of scale – the bigger the potent audience, the bigger the challenge to be overcome by the monitoring and testing regime. Where the numbers are manageable, staff gaining admittance to offices or shoppers to retail premises, for example, there are a number of solutions in development.
A good example is EonDigital's integration of the BrightSign HD1024 media player in its new temperature screening solution ExoMetrics Wrist. This innovative new solution quickly achieves highly accurate temperature measurements by taking hundreds of temperature readings in just a matter of seconds. This hands-free solution all but eliminates false positive readings and enables businesses to safely screen patrons with minimal disruption.
Temperature checks
Temperature checks have become an essential part of businesses re-opening in the wake of COVID-19. Common temperature-screening methods either rely on hand-held devices that pose a viral transmission risk, or hands-free solutions that work effectively only when used properly by the patron or customer. ExoMetrics Wrist overcomes these challenges with its unique design and engineering.
While most temperature screening devices use the forehead as the point of measurement, EonDigital's new device focuses on the wrist, an area of the body that is less likely to produce an artificially high reading due to physical exertion or environmental conditions. Not only does the wrist yield a more accurate reading, ExoMetrics Wrist actually takes approximately 300 readings in just a few seconds, yielding a temperature measurement accurate within .5 degrees Celsius. ExoMetrics Wrist also takes advantage of a powerful algorithm that processes recent readings to identify environmental trends, further reducing the likelihood of false positive readings.
"EonDigital's unique approach to touch-free temperature screening is precisely the sort of forward thinking we need to squarely address the challenges associated with safe business operation during this pandemic," explains BrightSign CEO Jeff Hastings. "It's gratifying to see the many ways companies like EonDigital are adapting BrightSign's technology to bring their innovative solutions to market."
"We conducted extensive research to isolate the most common shortcomings of conventional temperature screening devices, and we designed ExoMetrics Wrist to specifically address those challenges," said EonDigital co-founder Chris Dotson. "Not only does measuring one's wrist enable us to render a more accurate temperature reading, but there are also ergonomic advantages to our design that make the device suitable for a broader population."
One of the additional benefits of the ExoMetrics Wrist solution is that it sits at a comfortable height that is suitable for use by children and adults alike. Similarly, the device is within easy reach of people who may be seated in a wheelchair or other assisted mobility device. This broad accessibility suits ExoMetrics Wrist particularly well not just to businesses and retail environments, but also to airports, theatres, and other entertainment venues that attract a diverse crowd of all ages.
Asymptomatic?
While temperature checks have been found to be effective among those displaying the classic symptoms of the virus, what about those who are asymptomatic? The VHealth Passport is underpinned by a rapid antibody test kit which takes 1 minute to administer to a sports fan and gives test results within 10 minutes and a 98.7% accuracy testing for IgG, IgA, IgM. The test kit which comes with a GDPR compliant and generates the secure digital health passport, the VHealth Passport. which will be priced at £15 making it a 'game changer' for sports fans across the UK.
The team promoting the VHealth Passport includes Former England Rugby Captain and 2003 World Cup Winner Mike Tindall MBE. Tindall is a Global Sporting Ambassador for British cyber technology company VST Enterprises recently demonstrated the rapid testing kit on a visit to Manchester's Premiership rugby club Sale Sharks. Tindall was joined by Sale rugby pals Mark Cueto MBE and Tom Curry.
The three rugby players demonstrated the new rapid testing kit procedure and VHealth Passport as part of a pilot scheme called Fans Are Back which has been submitted by VST Enterprises to the Government including the Prime Minister, the Sports Minister Nigel Huddleston and the Department Of Media Culture & Sport (DCMS).
Tech entrepreneur Louis-James Davis is leading a consortium of British companies who joined their respective expertise to find a solution to get fans back into stadiums.  His tech company VST Enterprises along with sports partners RedStrike, public safety and event management partners HALO Solutions and occupational health care company Latus Health have put forward active pilot proposals to Government to get football, rugby union and rugby league fans back into sports stadiums across the UK in a safe and controlled manner.
Commenting on the pilot scheme Mike Tindall MBE said: "Getting fans back to watching live sport safely is the number one priority for clubs, teams and fans right now. Providing safe, accurate testing and ensuring that each person has a secure digital health passport to authenticate their test status result is vital to be able to do this. The fans are the lifeblood of any sport – without them it's just not the same and so this is a great step forward. The test is simple, easy to use and the results are then uploaded to the app on your mobile phone which fans can present when asked and it will also remind you when your next test is due, hopefully enabling the long term safe return of fans."
How it works
Pilot programmes will see a sample group of between 500-5000 home fans tested a day prior to a specially designated 'friendly game' using a Covid-19 rapid test kit. Each testing kit will also be provided with an ultra-secure digital health passport to be used on the fan's mobile phone called V-Health Passport. The ultra-secure digital passport will authenticate and validate the fans Covid-19 status.
Unlike contact tracing apps used by the Government, the V-Health Passport does not track or trace a person's live location or breach personal privacy protocols and ensures personal data is ultra-secure to the fan using the most advanced security protocols and encryption. The V-Health Passport is a unique cyber security technology app powered by the ultra-secure VCode which works alongside a Covid-19 testing kit to provide an intelligent traffic light system on a smart phone to authenticate a person's test status of positive or negative. "Red" indicates a positive, "Green" indicates a negative test result and "Amber" indicates a countdown trigger date to the next test date required.
The Fans Are Back pilot programmes will be overseen by event safety team HALO Solutions Ltd who have unrivalled expertise in public safety and event management. The team have extensive experience managing and supporting events such as the Cricket World Cup 2019, Isle Of Wight Festivals, BBC Sports Personality Of The Year to British Athletics providing event safety and management. Medical administration and testing will be carried out by Latus Health who have extensive experience in occupational health for corporates and Covid-19 testing with clients ranging from investment bank JP Morgan to Morrison's supermarkets.
A test group of home fans will be selected by their football or rugby team randomly to attend the pilot Fans Are Back event. Each will be instructed to download the V-Health Passport onto their mobile phone prior to the testing day. The fan will then enter their details, name, address, date of birth, phone number  doctors details onto their V-Health Passport and also confirm their official identity by uploading their official Government ID in the form of passport or drivers licence document. The uploaded documents are then verified against the phone's facial recognition to match the persons details in a "likeness test".
The sample group of fans will then be invited to attend and take a Covid-19 rapid test at a pre-defined location, by pre booked appointment the day prior to the event.  Upon arrival at the test site they will be asked to present their V-Health Passport for scanning and a temperature check will be taken before being directed to a test station for the Covid 19 test.
Antibody test
The test takes 1 minute to administer with Covid results in 10 minutes. The fans test status is then uploaded to their V-Health Passport. The V-Health Passport will then show a GDPR compliant screen when presented to officials for scanning showing the fans official photograph and a green traffic light symbol to confirm 'negative' test status and the date of the test. A more in depth and detailed screen can only be viewed by authorised medical staff. The fan is then advised to return home and self-isolate until the pilot match the next day.
On match day the fans are then invited to return to the stadium and present their V-Health Passport which is scanned by event security officials and stewards to confirm who they are and their valid V-Health Passport  and Covid-19 test status. The V-Health Passport can be scanned by officials up to 100 metres away in social distancing and while crowds are ingesting into an event, thus preventing choke points and bottle necks on entry.
The details uploaded to the V-Health Passport can also then be used for contact tracing purposes working with the NHSX teams if a person tested positive in the test day prior to the event. All data from the pilot Fans Are Back event will then be fed back to DCMS, Public Health England and the NHS. The BioSURE rapid Covid-19 test is the only antibody kit available which tests for IgA, IgM and IgG. Manufactured in the UK, the CE certified and MHRA registered triple antibody test is able to identify if a person currently has Corona virus (Covid-19), or if they have had a previous infection. Providing qualitative results in under 10 minutes, this test is praised as a 'game-changer' for the screening of high volumes of people to increase the efficiency of Covid testing and crowd safety.
Lockdown
Amid threat of an imminent lockdown in the UK, it could be some time before these new solutions have any real impact. The good news is that these technologies exist to hasten the recovery when it starts.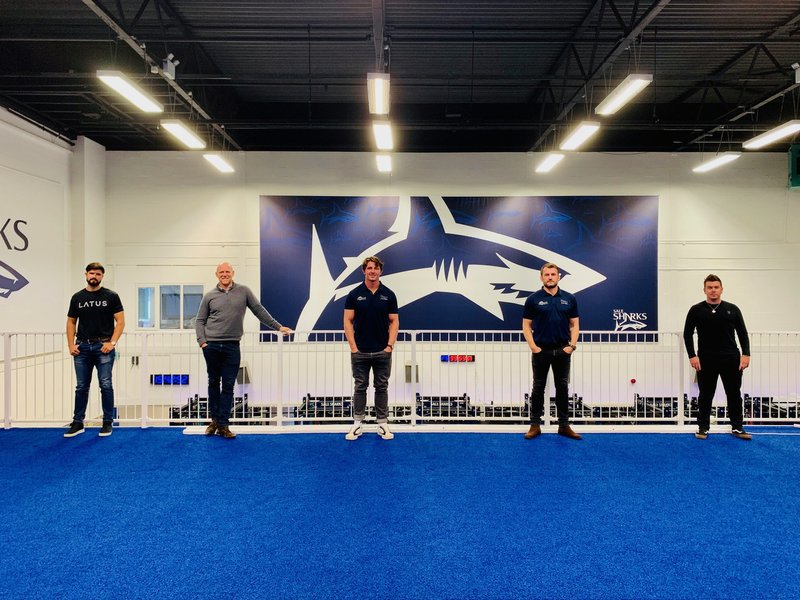 EonDigital, Inc. has incorporated the BrightSign HD1024 media player in its new temperature screening solution, ExoMetrics Wrist.
A team including England rugby star Mike Tindall and his wife Zara Phillips is promoting a rapid antibody test leading to a mobile phone based digital passport which allows those who pass to enter sports and other mass participation events.
The face mask problem
In February, some provinces and municipalities in China made it mandatory to wear masks when in public. News reports soon followed of residents and police chastising the non-compliant, a trend that's now seen globally as mask wearing has been rapidly adopted as a social minimum. Akash Takyar was shocked at how things were being handled in China, and he wondered if his software company – LeewayHertz – could offer a more peaceful solutions. Takyar recognized how important it is to wear a mask to slow the spread of Covid-19. Rather than leave members of the public to monitor each other, he wanted to develop a computer program that could look at images and detect whether people are wearing masks.
His San Francisco-based company is one of many now pioneering mask recognition to get people to comply for the public good. So far, masks have been confounding traditional facial recognition software—but these new machine learning tools could conceivably be used in private or public spaces to measure compliance and ostensibly take that out of the hands of individuals. Tryolabs' software identifies whether visible faces are uncovered or wearing masks as they pass by a closed-circuit television camera.
For the most part, people who flout these mandates, even if they can afford to follow them get away with that noncompliance. For businesses that have workers returning to indoor facilities, noncompliance could lead to others in the workplace getting infected. Ultimately, it could be a great loss for a business if there was an outbreak because someone was asymptomatic and failed to wear a mask, says Takyar. But "face data is as precious as a fingerprint," says Deborah Raji, a fellow at the AI Now Institute at New York University. And those who have had qualms about facial recognition wonder whether mask recognition software, however well-intentioned as it may be.
Today's facial recognition software studies the features around the eye, nose, mouth, and ears to identify an individual whose picture is already supplied, either by the individual or in a criminal database. Wearing a mask obstructs this recognition—an issue that many systems have already encountered, and others have solved. Developers say that mask recognition software in theory bypasses privacy issues because the programs don't actually identify the people. Such software is trained on two sets of images: one to teach the algorithm how to recognize a face ("face detection") and a second to figure out how to recognize a mask on a face ("mask recognition"). The machine learning algorithm doesn't identify the faces in any way that can link a face to a specific person, because it doesn't use a training set—the set of examples used to train such programs—with faces that are linked to identities.
Tryolabs' software has two main components: The 'pose' algorithms decipher different parts of the body before the 'classification' algorithms decide if the facial region includes a mask.
Companies that have developed mask recognition software say that they ultimately want this technology to be used in broad ways that help people set policy or enhance awareness campaigns. "If we can compute the number [of people who are complying with the mask mandates], people can make policies and monitor on whether or not they need to do another campaign to push mask usage," says Alan Descoins, the chief technology officer of Tryolabs, a company based in Montevideo, Uruguay.
LeewayHertz's algorithm, for example, could be used in real time and integrated with closed-circuit television (CCTV) cameras. From a given frame in a video, it isolates images and organises them into two categories, people who are wearing masks and those who are not. Currently, this recognition software is being used in 'stealth mode' in multiple settings in Europe. Restaurants and hotels are using it to make sure the staff is complying with wearing masks.