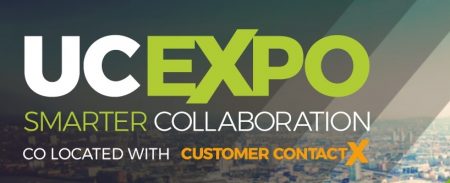 This year's UC Expo provided a showcase for an expanded selection of UCaaS and integrated to rationalise the tools available to end users. Here is a round-up of innovations and news from a number of vendors.
UC Expo's attendance reflected the high levels of interest in collaboration and agile working. According to Frost & Sullivan, hosted IP telephony and UCaaS users accounted for only 5.1 percent of the total workforce in 2017 and this figure is expected to reach 20.9 percent by 2024. The cloud voice and UCaaS market in Europe is ripe for growth and organisations are eager for competitive solutions to enable them to communicate more effectively so that they can drive business progress.
It was also a chance to get to know some of the larger global players in UC and C with limited exposure in the UK market. PGi, for example, announced the launch of its unified communications as a service (UCaaS)solution offering via the GlobalMeet platform in EMEA on the heels of the U.S. announcement a couple of months ago.
GlobalMeet includes cloud voice capabilities and an award-winning collaboration app that drives productivity and teamwork for over 17 million users each month around the world. This combination allows companies to streamline the number of software tools and vendors utilised, optimise employee productivity and accelerate business growth in a rapidly evolving technology market. The move marks PGi's commitment to supporting European businesses with their productivity and growth requirements.
GlobalMeet
By using PGi's carrier-grade, global network, GlobalMeet targets businesses who need enterprise-quality voice communications, powerful collaboration and business messaging capabilities, and a great customer experience. GlobalMeet customers can replace existing PBXs and other phone systems and consolidate their business communications and collaboration services onto a single, unified solution and user experience. The GlobalMeet platform is cloud-native – an important feature to customers for speed and efficiency. This cloud-native architecture is reinventing the concept of reliability for UCaaS customers and is claimed to set GlobalMeet apart from the competition.
GlobalMeet Collaboration is now broadly available as a freemium offering that allows businesses to host unlimited feature-rich video meetings. Thanks to flexible pricing models, enterprise customers can opt for a version of the GlobalMeet platform that offers advanced meeting features and tools, while those with simpler needs can begin to use the platform at no cost to host their video meetings.
The GlobalMeet platform also delivers automated calendar management and awareness through Active Directory Integrations with Office 365 on a new Home tab. The integration allows GlobalMeet to scrape your calendar to add upcoming meetings and appointments into the desktop application, making GlobalMeet the de-facto application to manage all communication and collaboration requirements.
Arkadin
Also new to AV News, Christophe Reyes, UCaaS Managing Director at Arkadin explained how Arkadin is pioneering the digitally connected modern workspace with cloud communications services. Some 50,000 businesses spanning the largest global enterprises to small companies already enjoy collaboration and smarter communication experiences through Arkadin's range of conferencing and cloud-based Unified Communications services.
Modern workplaces are required to be more connected than ever and Arkadin is working closely with its industry partners to help businesses of all sizes provide their workforce with the cloud-based UC tools, creating faster and more productive collaboration without the expense of introducing full new systems.
Arkadin's big announcement at UC Expo concerned the launch of its Cisco Webex Calling offering to provide customers with global PSTN telephony via Cisco's Broadcloud PBX technology under the Webex brand. Cisco Webex Calling is a cloud-based, communications solution, with all the enterprise-grade features of a PBX and integrated with Webex Teams and Devices.
By adding Webex Meetings, the service delivers the most complete, business-ready bundle on the market bearing the trusted Cisco Webex brand fully delivered, managed and supported by Arkadin.  Webex Calling makes it easy for customers to move to the cloud at their own pace by bringing all the functionality needed together for calling and collaboration in one simple package.
As a Cisco Early Service Provider, Arkadin will provide global PSTN telephony through Cisco's secure BroadCloud platform offering full enterprise calling and PBX features.  With all voice services run on parent company NTT Communications' global voice network, Arkadin addresses medium and large enterprises with a global cloud calling solution that offers low latency, security and scalability utilising a single licence plan, from a single service provider.
Arkadin's Webex Calling offering will enable customers to take advantage of a complete communications service which is bespoke to the single user experience, that natively works within the Webex portfolio of products which has been optimised to provide a fully unified service on desktop or mobile. The company's suite of cloud communication solutions has been developed to empower people's collaboration, driving efficiency and productivity resulting in greater business agility and ROI.
"Over the years, Arkadin has aspired to deliver the latest innovative solutions for our customers globally. Modern businesses have changed significantly in the way that they work, with more companies transforming to a smarter workspace. As-a-result, we're passionate about delivering greater agility, engagement and ROI to our customers' businesses through world-class cloud communication tools" ssid Christophe Reyes. "We're thrilled to be able to deliver Cisco Webex Calling to provide a one-stop solution for complete enterprise communication to more effectively drive productivity and collaboration across teams." Arkadin will be delivering the Cisco Webex Calling service globally in 23 locations, launching first in EMEA, with the Americas and Asia Pacific to follow shortly.