If you were starting a knowledge-based business today, would buying, renting or leasing an office in a commercial building be a priority? The technology to support home, decentralised. mobile or hybrid working is now mature, with the promise of more to come. Let us take a look at a new technology that will probably deal with some of the outstanding issues in audio and video conferencing.
Goldman Sachs chief executive and chairman David Solomon recently said: "Homeworking is "an aberration that we're going to correct as quickly as possible. "I don't want another class of young people arriving [remotely] that aren't getting more direct contact, direct apprenticeship, direct mentorship." So not a fan.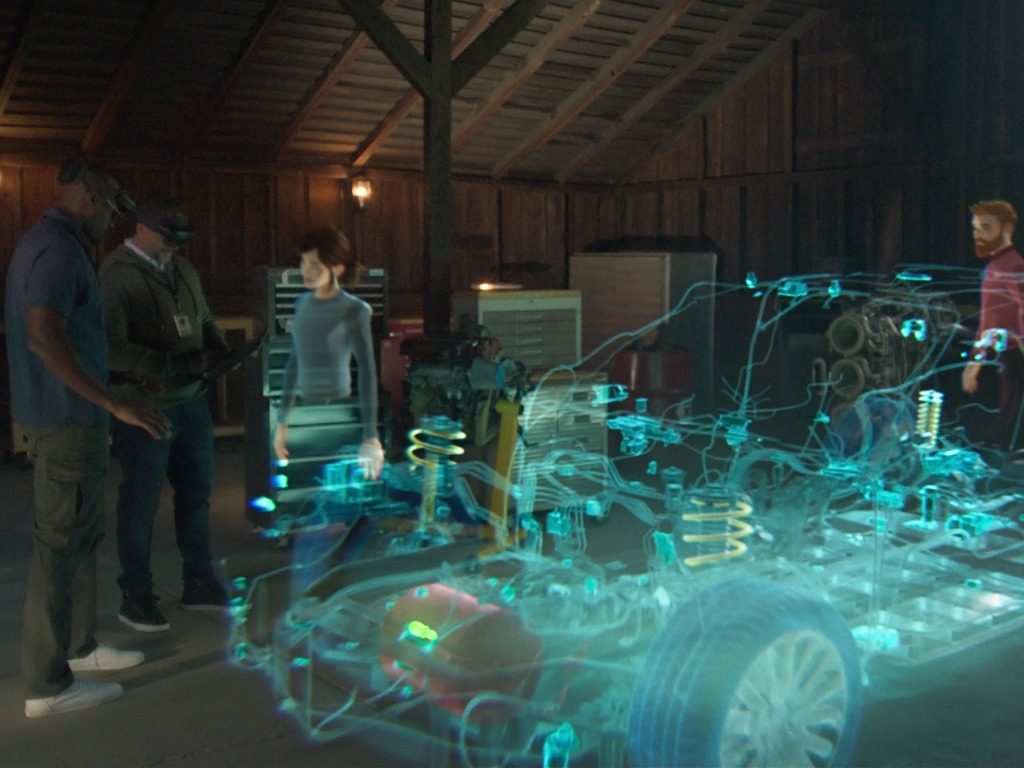 So why has the traditional office been seen as essential for a 'proper' business, even though the costs of acquiring and fitting out an office places a huge financial burden on a young business. But many managers have said they are worried young professionals have been deprived of informal learning they would usually gain in meetings and overhearing conversations.
The alternative to the traditional office for many new businesses is working from home but this is noy without its problems. Leesman, the workplace research experts found that 72 per cent of under-25s do not have a dedicated space to work in at home and struggled to connect with colleagues. According to the Chartered Institute of Personnel and Development, surprisingly it is actually younger workers in their twenties and early thirties were the age group most looking forward to returning to the workplace after the pandemic.
One of the main reasons for this is that the office workplace performs a social function. Psychologist Robin Dunbar writes that: "If [young workers] don't have a base with a ready-made group of friends to branch out from, where else can they find friends in a city where they know no one?" Work relationships are not just about companionship. They offer networks and learning how to navigate an organisation, determining where the real power lies behind the formal hierarchies and job titles.
Filling the gaps
So while technology offers the means to communicate and collaborate, something else is needed to fulfil those societal and behavioural needs. The team that developed Microsoft Teams has accepted the challenge. While it has sometimes seemed, during the pandemic, that the office has become invested with magical powers, transformed from a white-collar factory to the answer to every work problem from apprenticeship to creativity.
This rose-tinted takes no account of the wasted time, cost and stress incurred in commuting to and from offices. A partial and pragmatic solution has been found in the development of 'hybrid' working. A hybrid future means equipping workers with the skills to navigate a career that includes remote working, but this only a partial fix. Microsoft's thinking depends on turning the problem on its head – if we can't take the worker to the office, what about bringing the office, or at least the office environment, to the worker?
Microsoft Mesh
This month, Microsoft has launched Mesh as the way to reinvent meetings by creating environments in which: "You can actually feel like you're in the same place". Soumyadeep Sarkar asks: "Imagine being in your room and attending office meetings as a hologram. Sounds like something out of a science fiction novel, does it not? From Tuesday onward, this will no longer remain fictional, as Microsoft has announced its newest meeting space, Mesh, a service to build apps for people to collaborate in augmented reality."
Microsoft Mesh is a cloud-based mixed reality meeting room allowing people from remote locations to be a part of a shared holographic experience using mixed reality devices such as Holo Lens. Microsoft plans to integrate the platform with its other enterprise products including Teams and Dynamics 365. Mixed reality headsets overlay a virtual world or object over a physical world or object. Mesh will be an Azure service and associated software development kit. Select customers can start testing the Mesh cloud service now in preview before it becomes available for all.
A bold new vision for 'mixed reality' technology, which could create a greater sense of connection between people when they're meeting in the digital realm as avatars. Microsoft has provided a lot of details about Microsoft Mesh, describing this innovation as "a new mixed-reality platform […] that allows people in different physical locations to join collaborative and shared holographic experiences on many kinds of devices."
Adding a bit more detail, a Microsoft blog post mentions that Microsoft Mesh will "enable geographically distributed teams to have more collaborative meetings, conduct virtual design sessions, assist others, learn together and host virtual social meetups. People will initially be able to express themselves as avatars in these shared virtual experiences and over time use haloboration [sorry, their word not mine] to project themselves as their most lifelike, photorealistic selves".
Microsoft Mesh will work across "many different devices" including Microsoft's HoloLens 2 glasses, as well as VR headsets, smartphones, tablets and PCs. Microsoft Mesh will be integrated into a whole suite of apps, including Microsoft Teams, which makes it sound like holographic work meetings could soon be possible. The video below provides a handy summary of what Microsoft Mesh can do.
Technology like this will create very different possibilities for how we meet and interact online. The Microsoft blog post mentions that it is already possible for companies "to hold meetings and work gatherings in virtual reality […] using a new version of Mesh-enabled AltspaceVR". And Microsoft is also working with various partners to develop other exciting applications for the technology.
Availability
If you've already bought HoloLens 2 glasses from Microsoft, you should be able to download a preview version of the Microsoft Mesh app now for free. This early version of Microsoft Mesh allows you to create cartoon-like avatars, meet with people virtually and see 3D content together. But it could be a long time before Microsoft Mesh reaches its full potential. There's no date yet for the Microsoft Mesh version of Microsoft Teams, for example, and everyone was keen that this initial release is just a proof of concept.
But there is no doubt that the global community of developers will be all over this, with polished implementations commanding a huge market, especially now. More entrepreneurs are asking: "Is having an office actually going to lead to your company to getting more sales? If the answer is "no" then consider carefully if you are spending money wisely or if there is something more productive you could spend it on."
Naturally, managers with a traditional background have reservations when interactions between team members migrate to the virtual domain. When working virtually try keeping a Skype or Google chat open constantly during the day. This helps you to stay in communication with the team and replace the "water cooler effect" of being in an office and bumping into each other
What about productivity? It's not necessarily true that an office will make a business more productive or prestigious Many start-ups hire a serviced office in the best location in your city for a fraction of the cost of a "real" office. This should be prestigious enough for most businesses.
So what do individuals want and need from their place of work? And as employers, how much value does our business derive from 'social capital', face-to-face contact and the physical provision of a workplace for our people? Vocal proponents of home working now declare that there is no need to return to the environmental and personal rigours and expense of commuting. They say that the benefits gained from our rejuvenated view means that our homes – or our local café – have permanently replaced the need for a shared office.
But supporters of the office argue that this neglects critical lessons from generations who believe in the workplace as our second home. It is the place in which we feel safe for a large proportion of our lives. The place where we solve problems, create solutions with like minds and form bonds that last a lifetime.
If a business has a choice and the home working experiment has exposed a potential alternative, they must decide whether the inevitable cost savings outweigh the benefits of bringing their people together under one roof. If they decide to maintain the role of the office, they must ensure they can persuade their people to leave their home desks and return to the fold.
Companies heavily invest in 'social capital' which is held within their networks, their teams' knowledge, their ideas and group resilience. Without the office this value is rapidly eroded. The office grants us the ability to interact – face-to-face – whether formally behind closed doors or in accidental meetings in break-out areas. Our body language, vocal interjections and camaraderie contribute to a gold standard of collaboration. Could a tool like Microsoft Mesh replicate this?
It wasn't so long ago that we were casting doubts on whether anything other than face-to-face meetings would support essential functions like sales. How wrong were we?